Slobot About Town XXXVI:
Slobot goes to the Walnut Grove Plantation!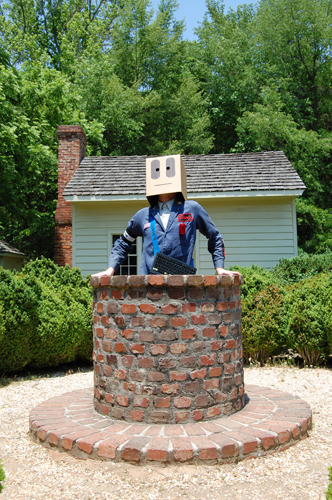 A subterranean Slobot suddenly emerged to discover that he had arrived at the Walnut Grove Plantation!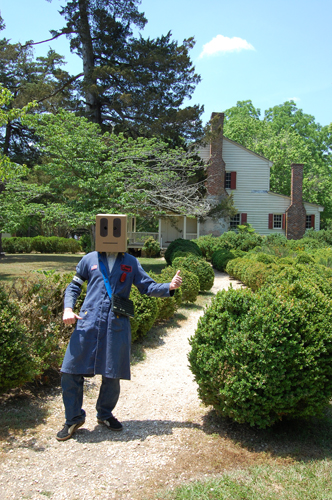 Indeed, the manor house of Walnut Grove lies just down this bushy path...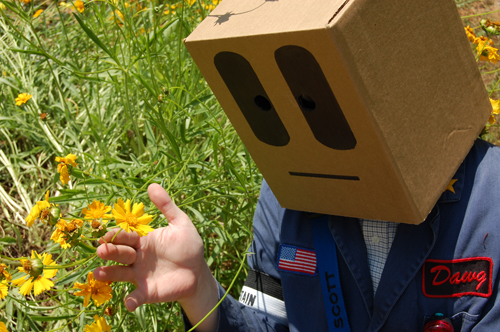 and beyond these lovely flowers.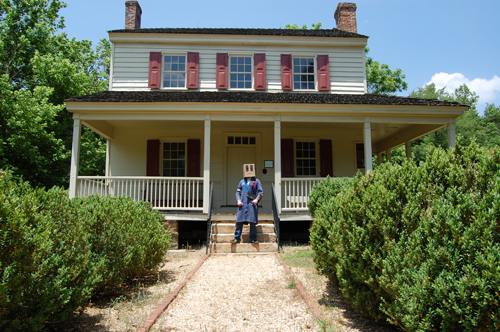 Built in 1765, this was the home of Charles and Mary Moore and their 10 children.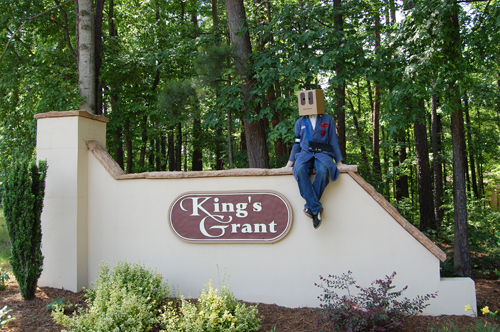 Charles Moore was a man originally enticed to this beautiful bit of back country after receiving land grants in excess of 3000 acres from the Mad King himself, George III.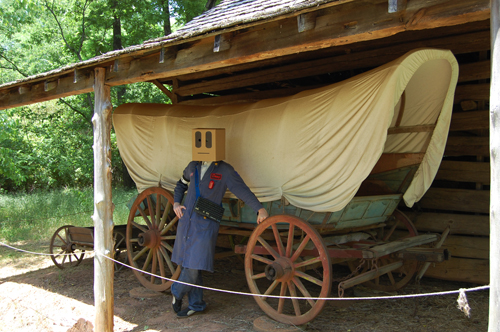 Moore made his way from the north of Ireland to Pennsylvania and then on to a nascent Spartanburg. Such a journey would require thrifty packing and so only essentials would have made the trip.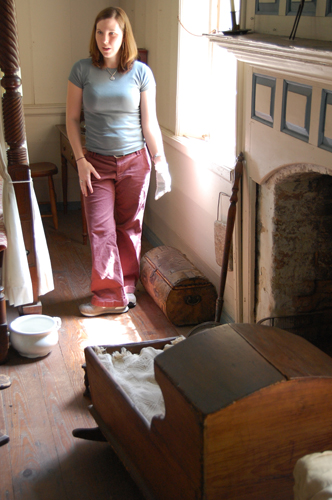 Kelly Swanger (pictured) points to one of the few items Moore would bring with him to Spartanburg, his animal-skin covered tobacco box.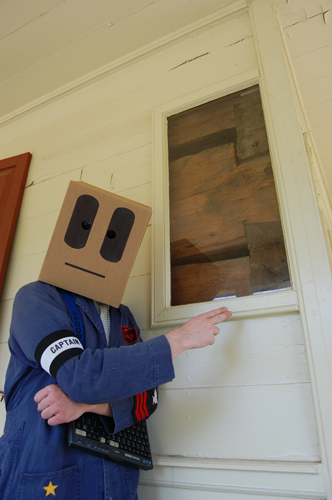 Like most of the buildings at Walnut Grove Plantation, the manor house has been remodeled. For a better idea of what the Manor House would have looked like simply peer through this bit of glass to see its classic log structure.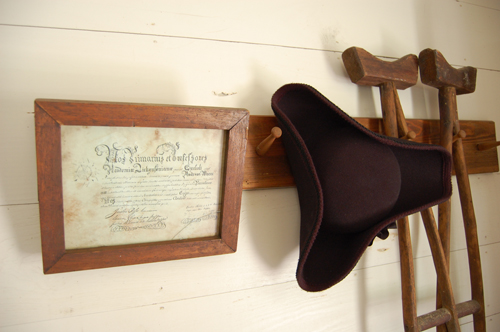 Slobot, feeling itchy from frolicking in flowers, decided to consult Dr. Andrew Moore.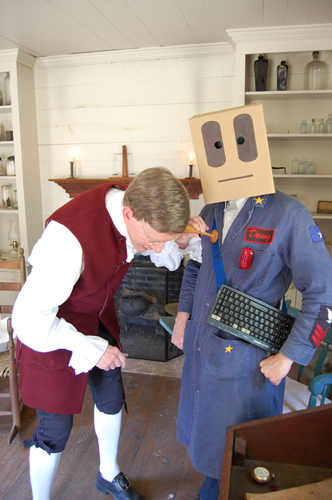 Andrew is the 9th child of Charles and Mary Moore and the only doctor in the district.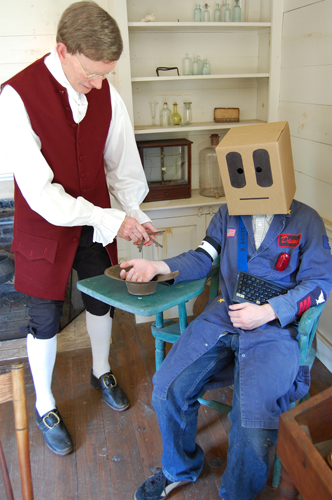 Dr. Moore recommended an immediate bleeding.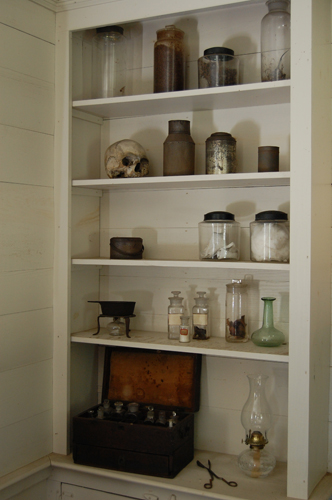 And, afterwards, Dr. Andrew Moore had Slobot raid his apothecary.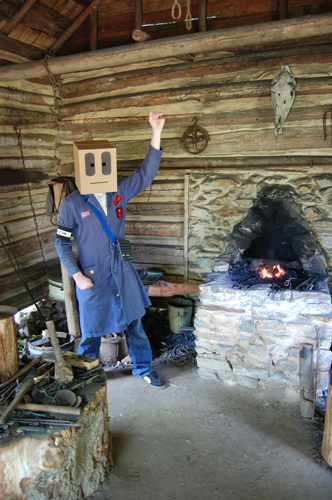 Whatever Dr. Andrew Moore had done it had worked!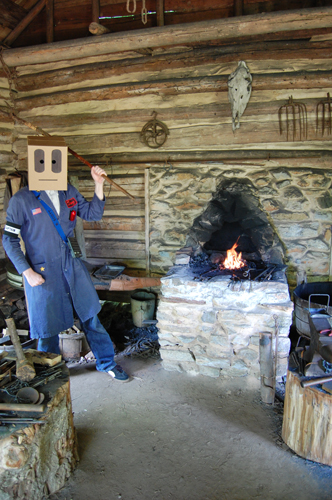 Slobot's vitality had returned... he felt like Hephaestus himself!
Actually, Slobot was just manning the bellows...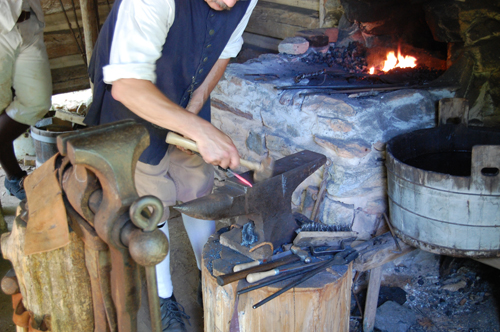 for blacksmith Bruce Mills...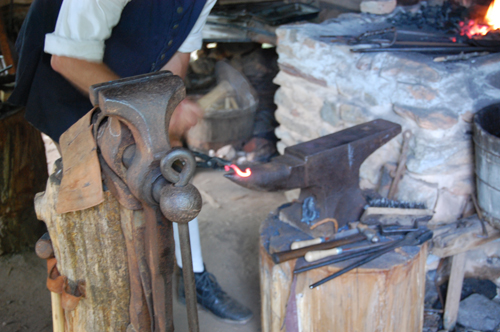 who was forging red-hot s-hooks.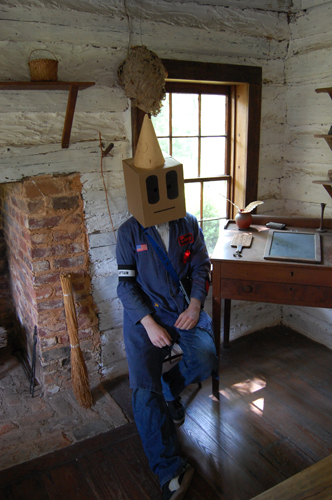 Besides a blacksmith's forge Walnut Grove also had a school. The school, known as the Rocky Spring Academy (1770-1850), was the first school in Spartanburg! Slobot, unfortunately ignorant of 18th Century teaching methods, soon found himself in time-out.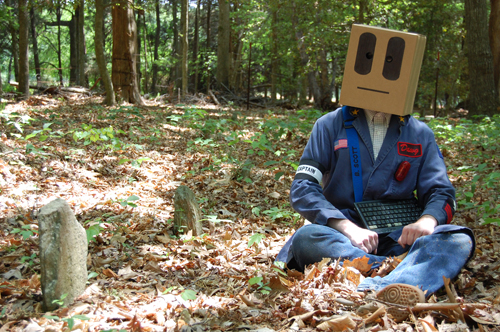 Walnut Groove is also the final resting place for some 146 people. The first of these people were victims of Tory forces during the American Revolutionary War. Little is known of these men, though one has been identified as "Captain Steadman."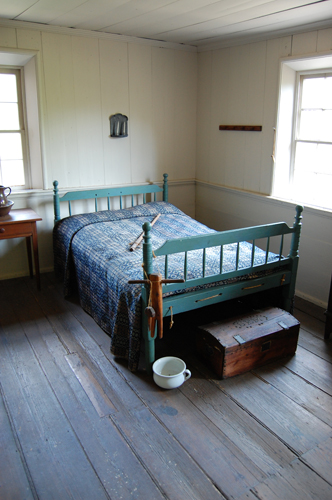 The deaths of Captain Steadman and his comrade at Walnut Grove have been the source of a long standing legend, one that holds that an injured Steadman (or other soldier) was resting in this bed at Walnut Grove when Tory forces led by "Bloody" Bill Cunningham stormed the home.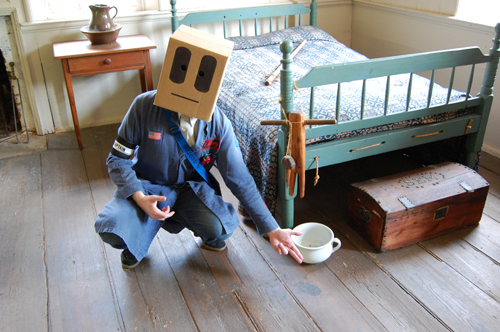 The soldier was allegedly assaulted and ultimately killed by Tory forces and that he, in his attempt to flee, left retreating pools of blood...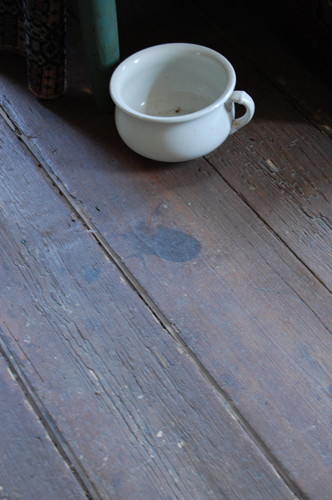 blood which still stains the floors of Walnut Grove's manor house. Research, unfortunately, suggests that stains like these are not of human blood (Slobot just hopes they have nothing to do with that chamber pot).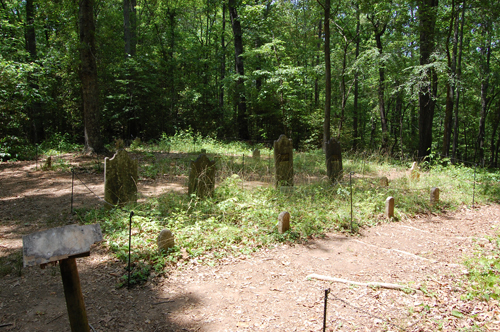 What is not in dispute, though, is the fact that Patriots died and were buried here at Walnut Grove.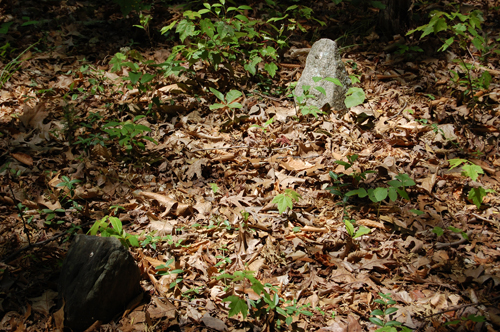 They are joined by slaves, infant children, descendants of Charles and Mary Moore and others.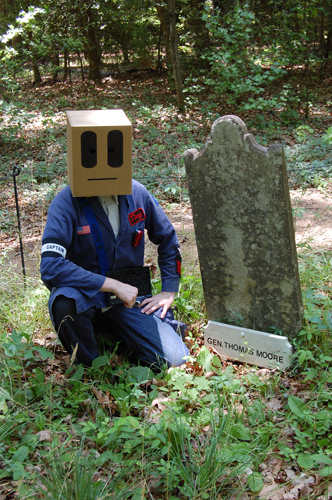 General Thomas Moore, 7th child of Charles and Mary Moore, is among those interred here. He would serve in the American Revolution during the Battle of Cowpens as well as in the War of 1812 as a Brigadier General. Thomas Moore also served as a Democratic-Republican Congressman during the 7th, 8th, 9th, 10th, 11th, 12th and 14th Congresses!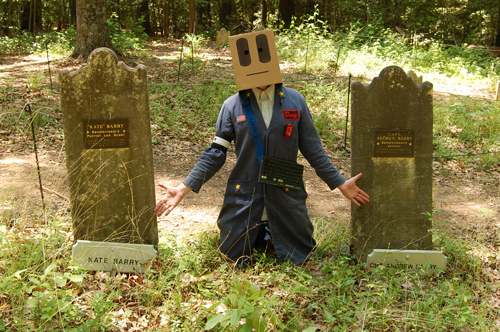 Thomas is joined by his late sister, Margaret Catherine Moore Barry (left). She was better known in life as "Kate" and was born in 1752. Kate, the first of the 10 Moore children, would marry Andrew Barry (right) in 1767. Andrew Barry would serve in the Revolutionary War and rise to the rank of Captain. Kate Barry, herself, would serve in the build-up to the 1781 Battle of Cowpens as a scout for Patriot forces.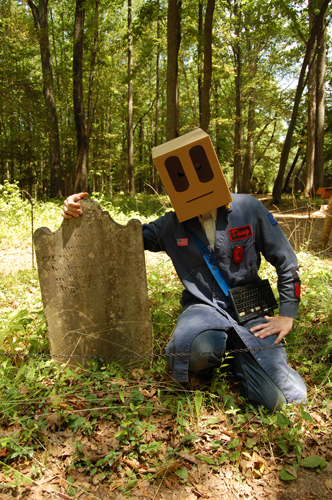 The man behind Walnut Grove, Charles Moore, is also buried here. He has rested in peace since 1805.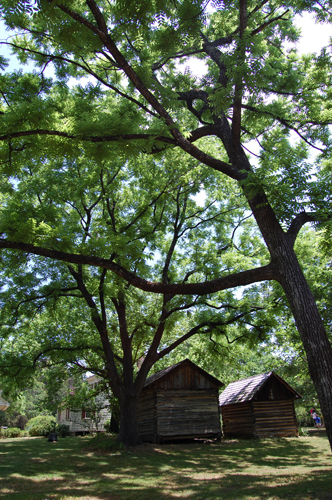 Slobot would like to thank Caroline Foster, Bruce Mills, "Dr. Andrew Moore," the Spartanburg County Historical Association, the Arts Partnership of Greater Spartanburg, Becky Slayton, Kelly Swanger and YOU!