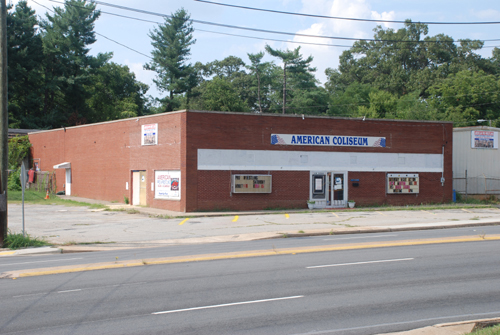 Slobot was walking Whitney Road when he discovered American Coliseum...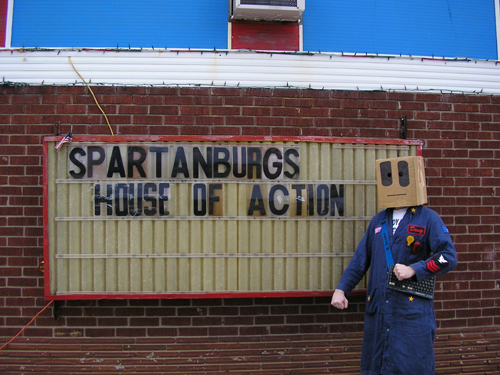 Spartanburg's House of Action!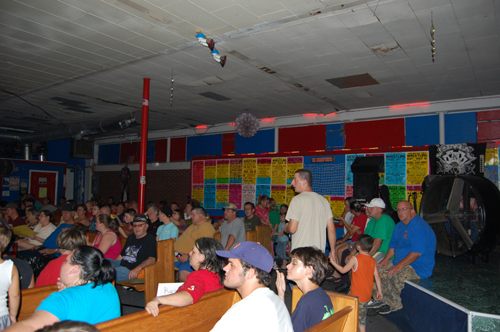 Spartanburg's House of Action is the brain child of Jerry Bragg, AKA Chief Jay Eagle. Chief Jay Eagle has, in the course of his illustrious career, wrestled the likes of One Man Gang, George South, Wahoo McDaniel, Brute Bernard, Masked Assassin, Michael Hayes, Gorgeous George III, Ivan and Vladimir Koloff, Tommy Rich, Jimmy Garvin, Greg Valentine and has teamed with Ricky Morton and Jimmy Valiant.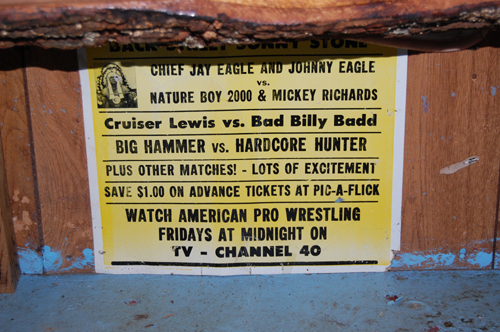 Chief Jay Eagle's father would introduce his son to the world of professional wrestling. Jay Eagle's father hed met Chief Wahoo McDaniel, former NFL player and professional wrestler, at a Laurens area hunting club.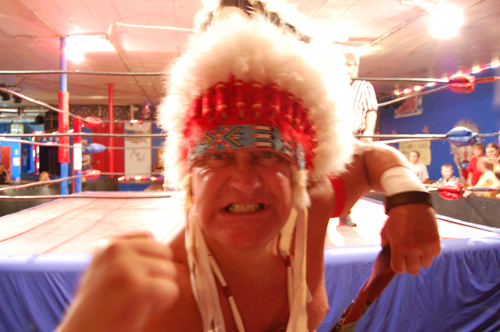 His father would be given tickets to a wrestling match in Greenville and there Chief Jay Eagle would take a glimpse at his own destiny.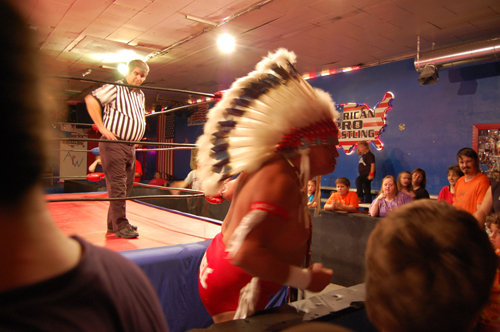 Years later Chief Jay Eagle would again cross paths with Wahoo McDaniel. McDaniel would take Chief Jay Eagle under his wing and out on the road.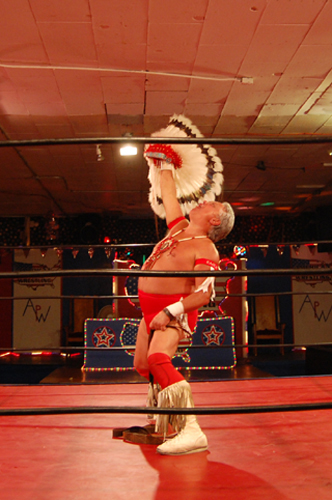 Today Chief Jay Eagle is owner and promoter of American Pro Wrestling and its American Coliseum.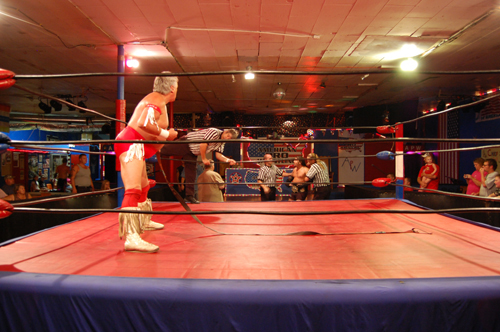 On this particular evening Slobot would see Chief Jay Eagle wield a strap...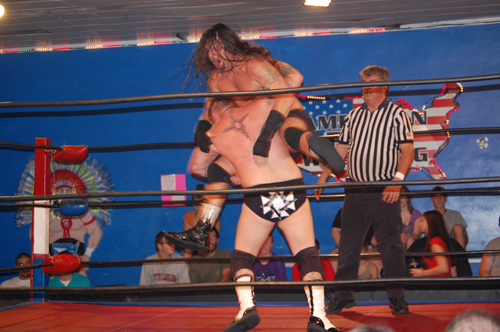 and, in doing so, terrorize his opponent, Matt Marshall.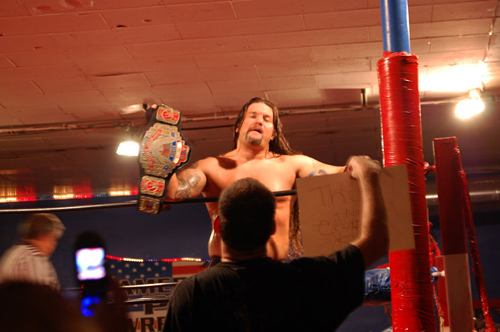 In an earlier match Marshall had been victorious, but he would not be so in his bout with Chief Jay Eagle. Chief Jay Eagle would, in that match, remove a pair of scissors that he had secreted in his moccasins and attempt to cut Marshall's long locks. It was then that manager Ken B Devine would save Marshall and his mane by pulling him from the ring. Though saved, Marshall would lose the match by disqualification.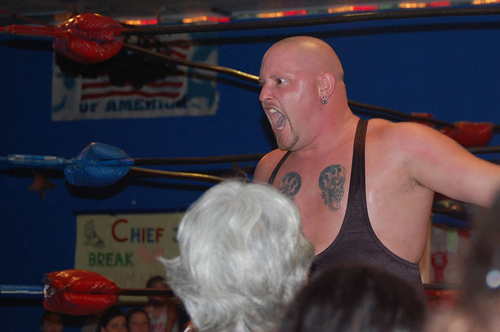 Later in the evening Slobot would see Bad Chad Wilson howl,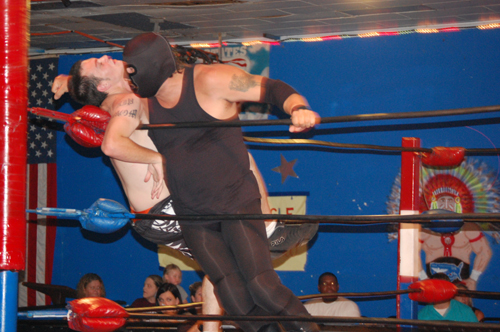 "Bring out the Gimp!"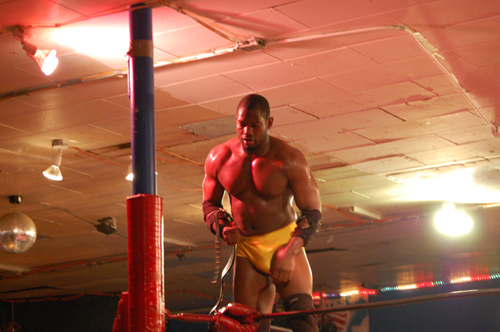 Even later Slobot would see Dirty (pictured) and his partner, Nick Fury, take on and defeat the tag team of Smasher Sloan and K-9.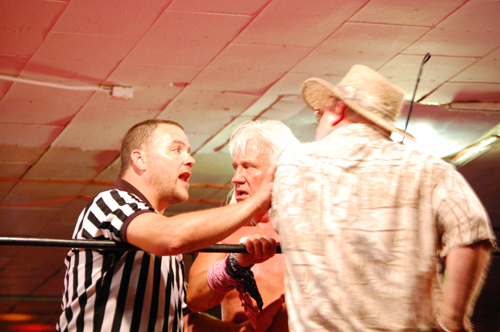 The headliner that night would be none other than former Rock 'n' Roll Express member Ricky Morton.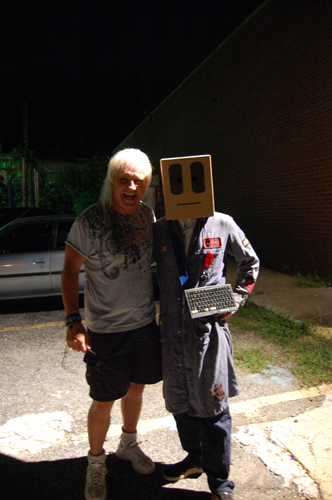 Ricky Morton has held seventy-nine championships during his career, and Slobot found him to be quite friendly.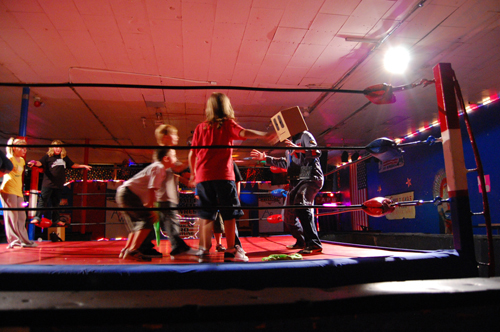 Slobot, inspired by the evenings events, wanted to wrestle and so decided to take on a team of five boys.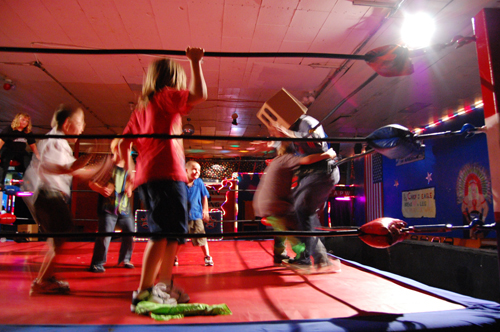 The match would prove disasterous, with Slobot being trounced by the boys.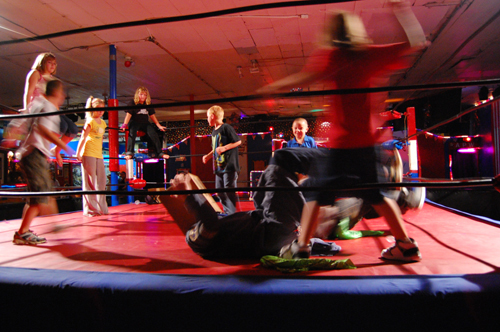 It was then that Slobot realized that he would have to take on someone his own size.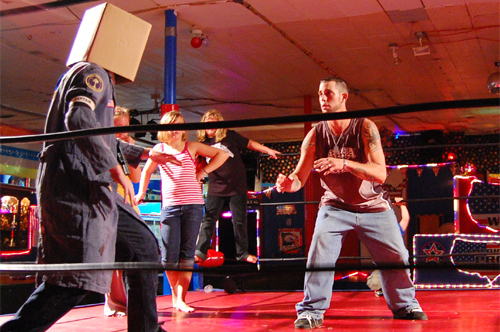 And so Slobot decided to challenge Nick Fury.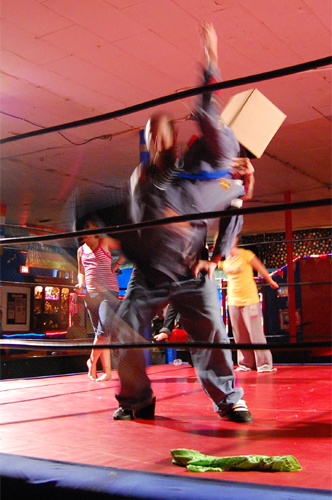 Nick Fury would quickly turn Slobot's world upside down.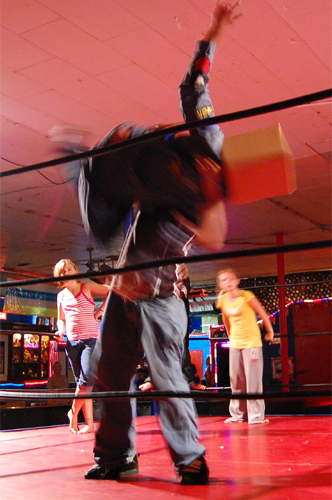 Slobot would be spun and smashed...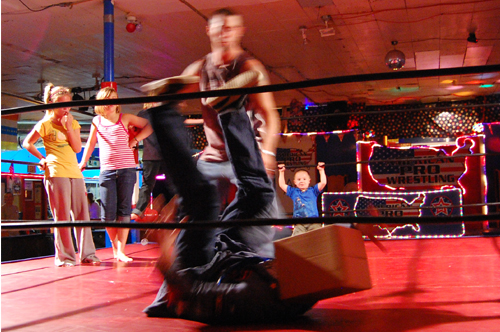 smashed to the mat.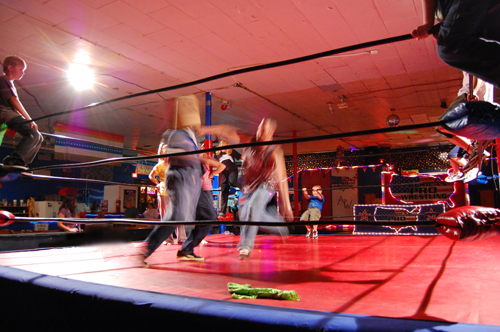 Nick would then unleash the fury,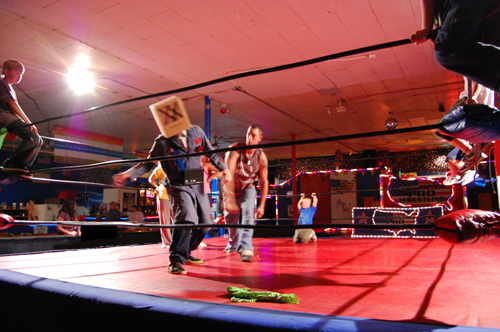 the fury of his fist, all over Slobot's face.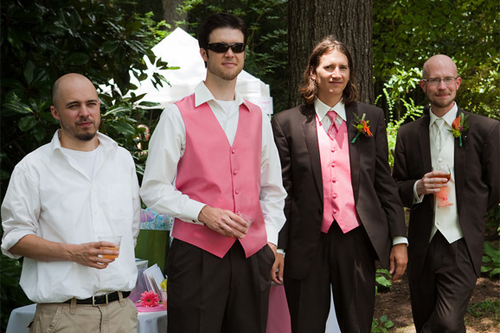 As he spun, the concussed Slobot would think of friends and family, friends like his photographers Clint Gosnell, John Shealy, Matt King, Brian J. Scott,
Jason Leaphart and Evan Scott.
Slobot would also think of his bride.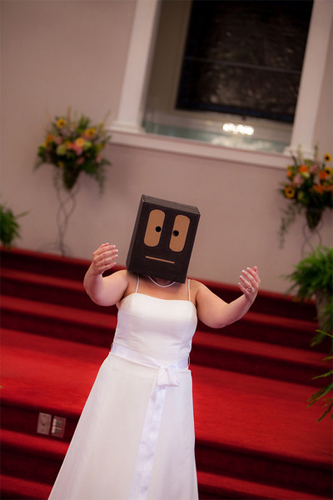 Slobot would envision his escape from the ring...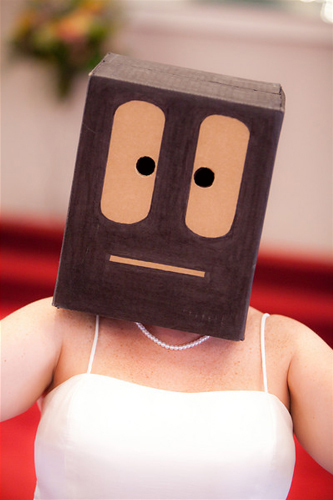 and his flight into the waiting arms of his bride...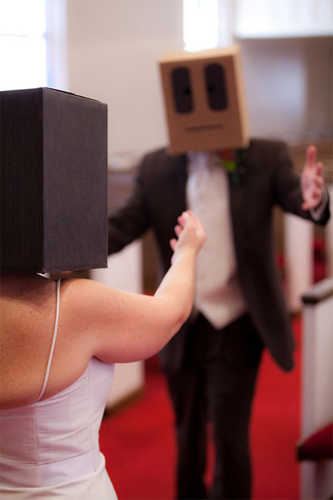 As Slobot reached out to embrace his bride...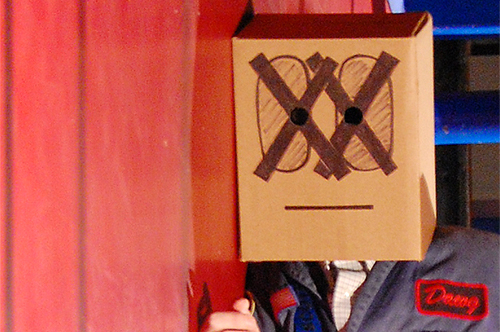 he would be snapped back to reality,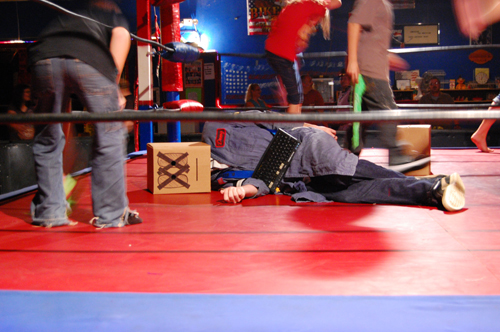 a reality in which he lie prone and unconscious.
Mother of mercy, is this the end of Slobot?
Slobot would like to thank Ambrose Bierce, Chief Jay Eagle, Nick Fury, Dirty, American Pro Wrestling, American Coliseum, Fairforest Baptist Church, Jason Hutto, Clint Faile, Clint Gosnell, John Shealy, Matt King, Brian J. Scott, Jason Leaphart, Evan Scott, Katherine Nicole Medlock Scott, Andy Rhinehart, Tom Priddy, Celena Price, the Spartanburg Herald-Journal, the New York Times, GoUpstate.com and YOU!