Slobot goes to the Peachoid!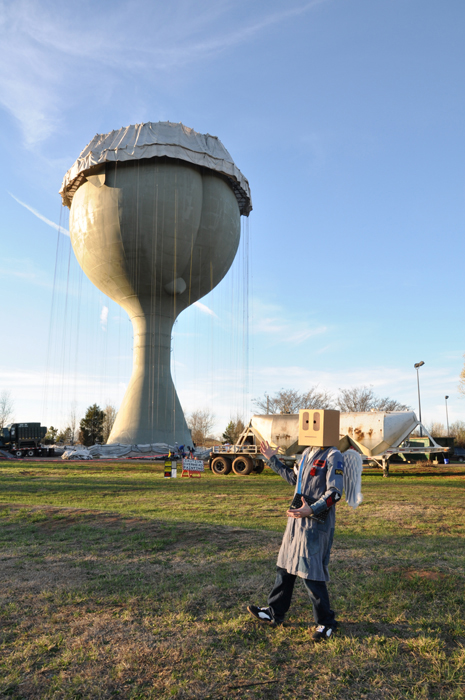 Slobot was bumbling about Gaffney, SC when he stumbled upon the world's greatest monument to peaches...
the Peachoid!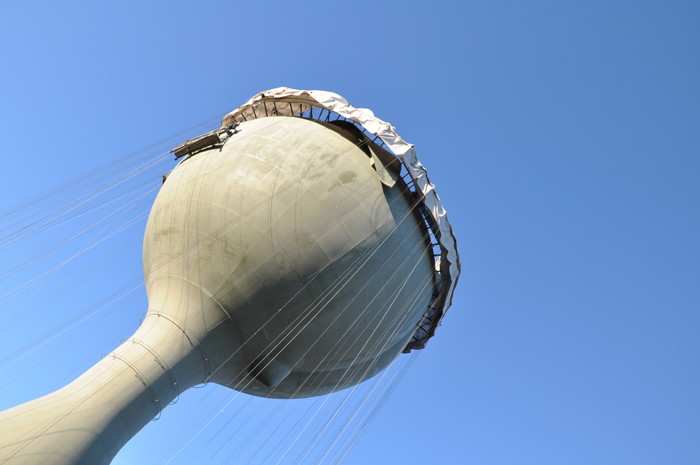 The Peachoid, however, did not look like its usual self; it was stripped of its colors and wearing a bizarre crown.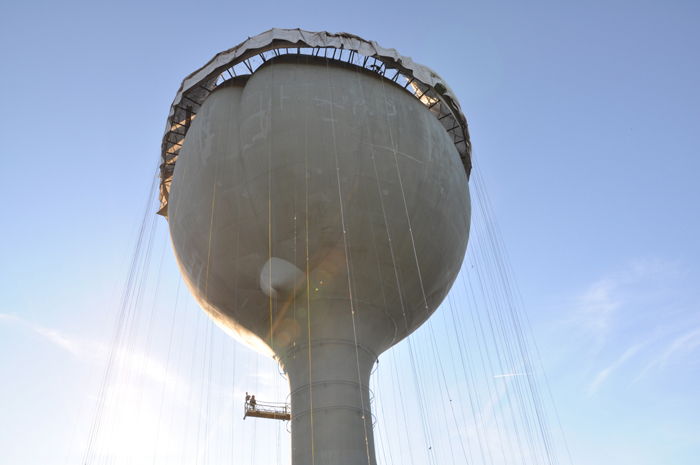 Later Slobot would learn that this crown was part of a containment system for all the lead paint that would be removed.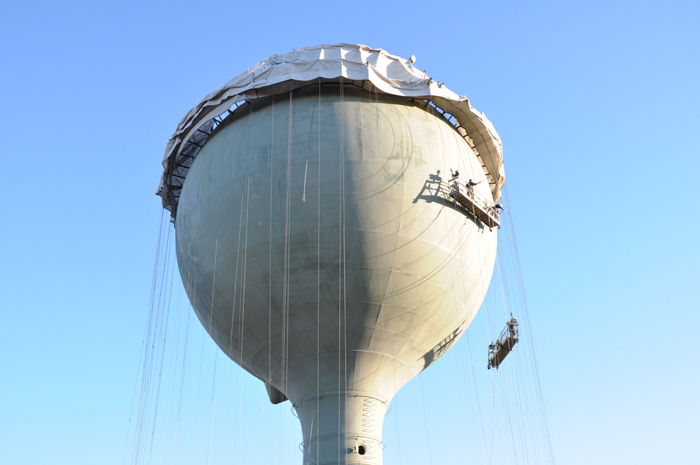 The iconic water tower had been repainted on two prior occasions, but this time the repainting was different. This time the one-million-gallon tank had to be completely emptied, patched, stripped and repainted.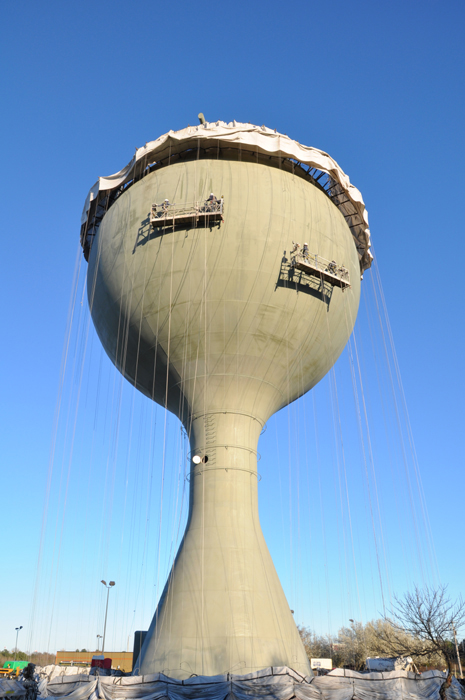 All of this repainting was necessitated by winter damage from 2014. The colder-than-usual winter allowed moisture to creep under the paint, especially in the area of the crevice. Pieces of paint 6 - 10 feet in diameter began to slough off.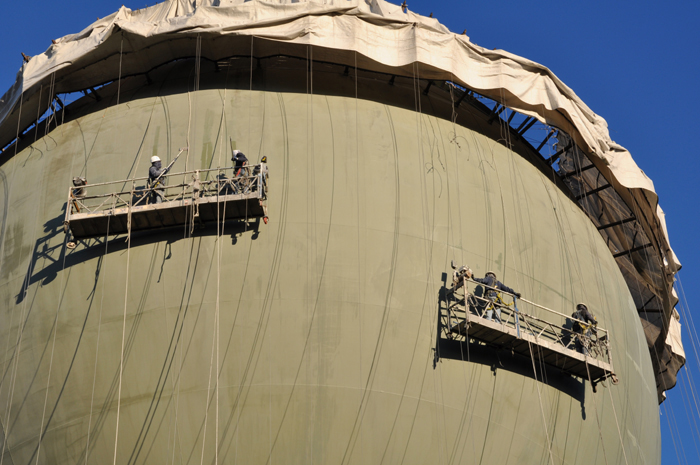 Repairs had to wait until demand for water slacked off in late winter/early spring. At that time the tank was completely emptied of its one million gallons of water.
Repainting would be delayed due to April showers but - eventually - the Peachoid would bloom - like May flowers - and return to its former glory.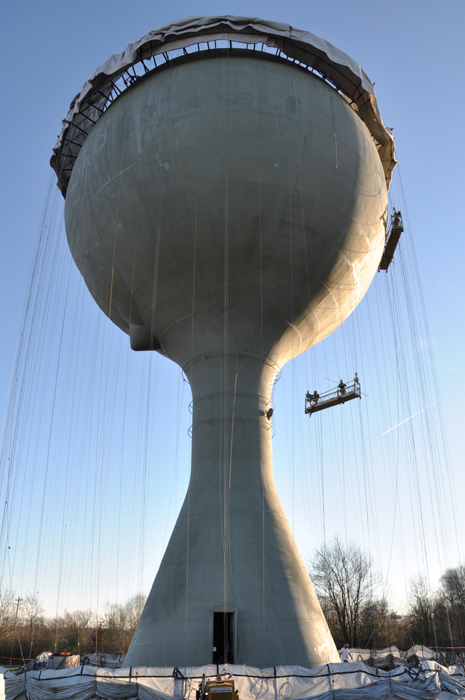 The water tower's iconic design is the result of the "Peachoid King" Jack Millwood. Jack Millwood was a member of the Gaffney Board of Public Works and it was Jack that suggested they build their new water tank in the shape of a peach.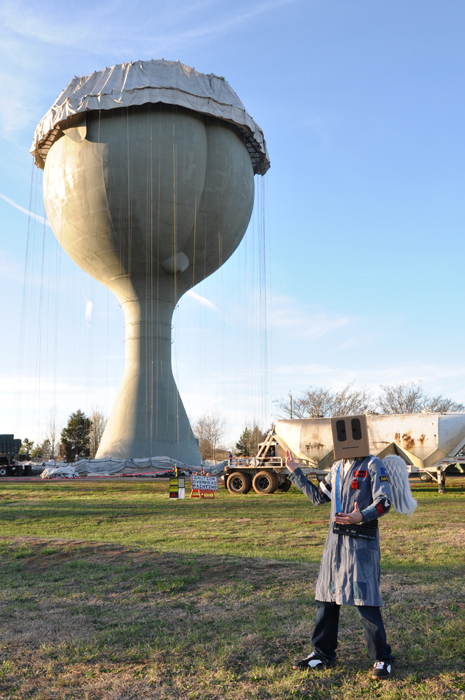 After all, South Carolina produced more peaches than "The Peach State" Georgia. Why not celebrate that fact with a giant peach?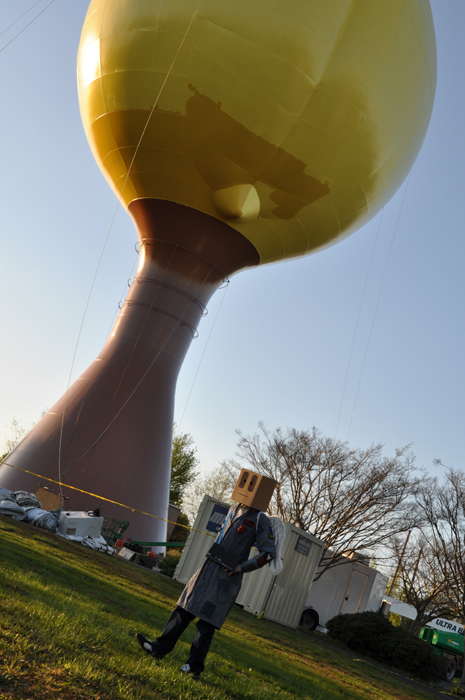 Even in 2013 South Carolina produced more peaches (69,650 tons) than Georgia (35,250 tons). Truth be told, though, the true peach state is California (knocking SC to #2 with 648,000 tons).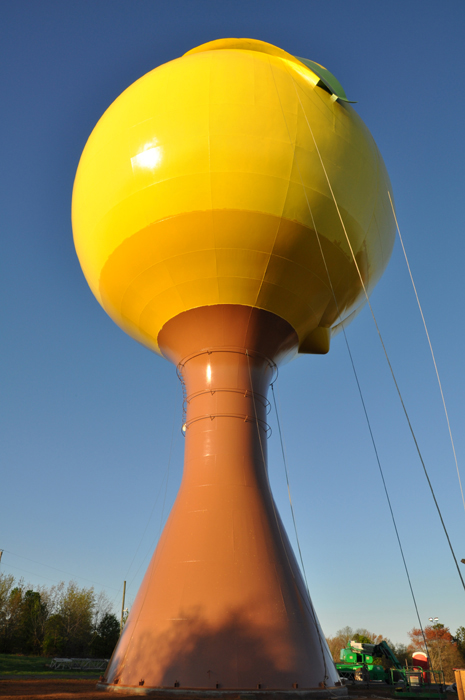 Over the course of 5 months, the design was hammered out and the steel molded. A foundation of some 10 million pounds of concrete was constructed.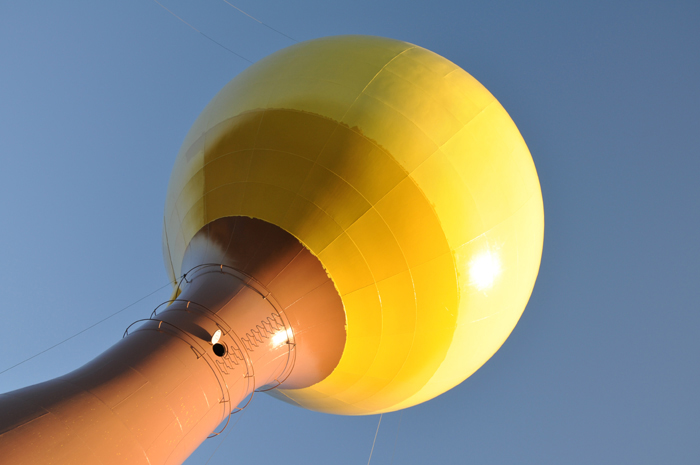 A stem measuring 12 feet in length and 18 inches in diameter was added along with a leaf 60 feet long, 16 feet wide and weighing some 7 tons.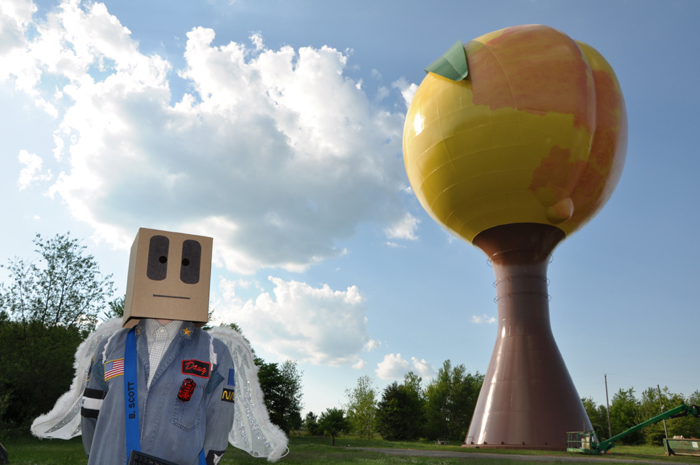 The familiar crack cleft was added along with its friend, the nipple.
A New Jersey artist, Peter Freudenberg, was hired to paint the tank to look like local peaches. Members of Gaffney's Board of Public Works actually went in search of the perfect peach to model the tower upon. This, of course, required the drinking of peach daiquiris and wandering about orchards. Eventually a peach was picked and Freudenberg was off.
Freudenberg would say that it only took 4 days to paint the Peachoid but that it took a month to get those 4 dry days.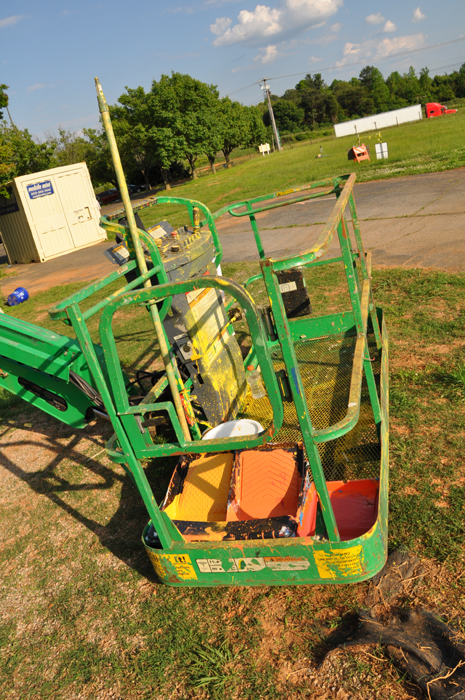 In the end a realistic peach, standing some 135 feet tall, would be created.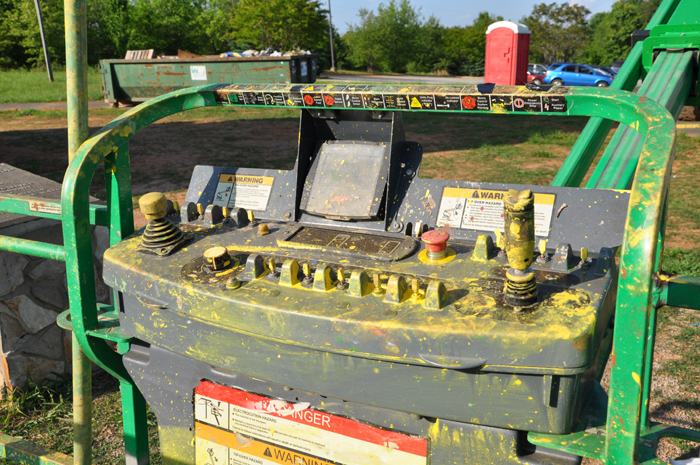 At its debut the Peachoid became a frequent CB radio conversation topic among truckers. And anyone who has ever been 13 years old has had a laugh at its resemblance to a buttocks.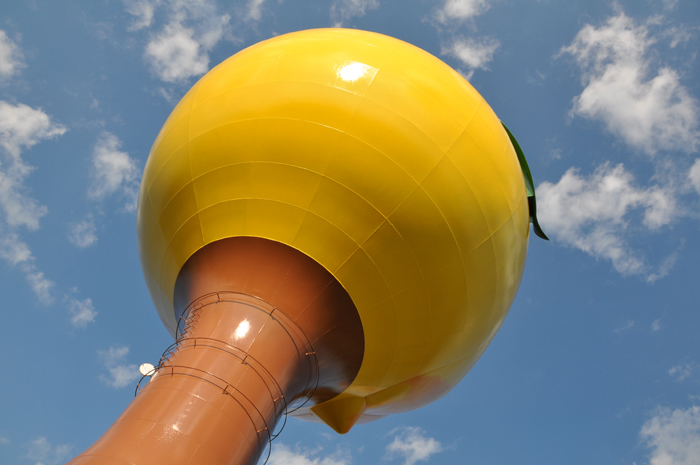 In 1992 the tank got its first make-over: a make-over necessitated by rust, graffiti and people shooting the tank with high-powered rifles.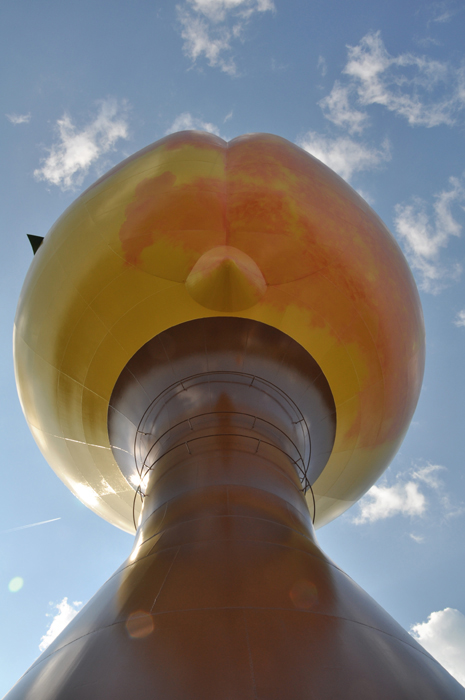 The Peachoid also became a notable location in the Netflix series House of Cards.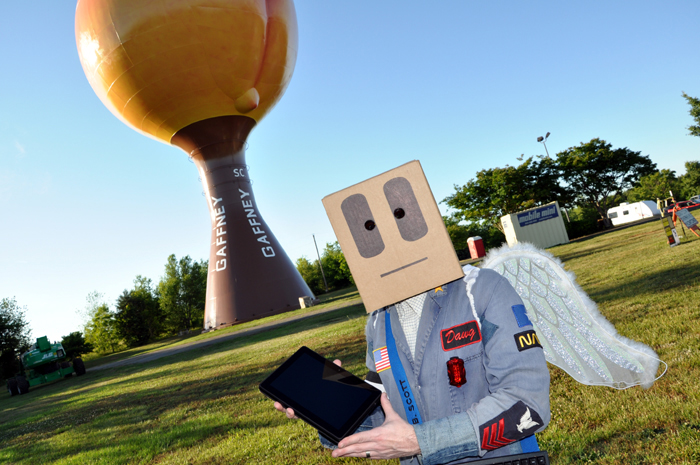 That show had some laughs at the Peachoid's resemblance to a buttocks or a woman's genitalia...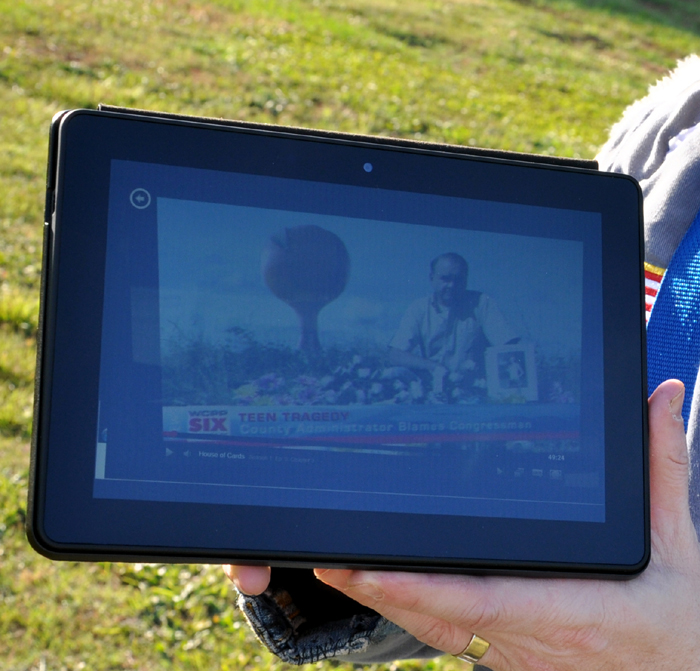 but it would also make the Peachoid a plot point in episode 3 of season 1.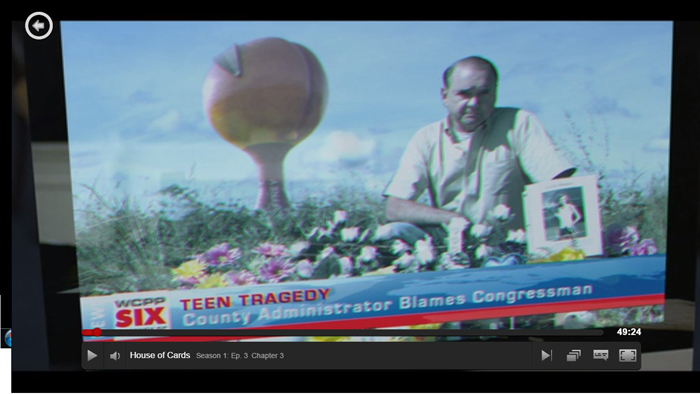 In House of Cards Kevin Spacey plays Frank Underwood, a Democrat from South Carolina's 5th Congressional District, a seat held, in real life by Republican Mick Mulvaney.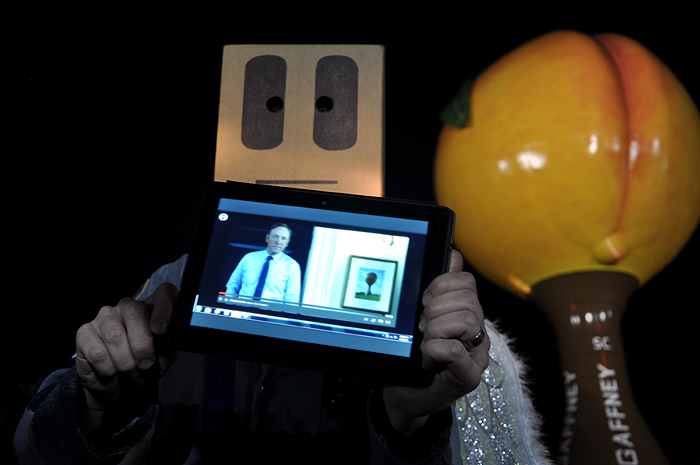 In the 3rd episode of season 1 a 17-year-old girl, Jessica Masters, texts her boyfriend, "Doesn't the Peachoid look like a giant...", loses control of her car, crashes and dies. Cherokee County Administrator Oren Chase uses the incident to challenge Frank Underwood's Congressional seat. Chase calls the Peachoid vulgar and demands for it to be torn down while Frank Underwood, who took campaign money from peach farmers, champions the tower.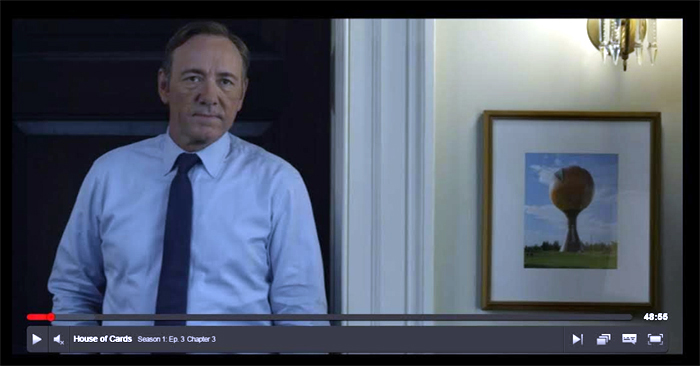 While the show did not actually film at the Peachoid (it was CGIed into the episode)...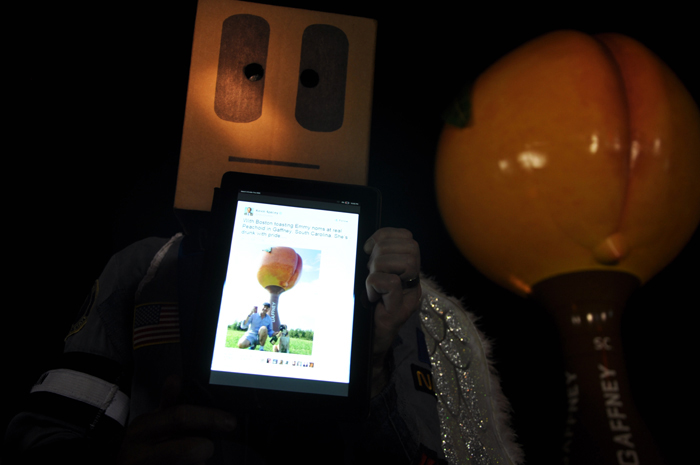 the star of House of Cards, Kevin Spacey, did tweet a picture of himself and his dog, Boston, at the Peachoid on July 24, 2013.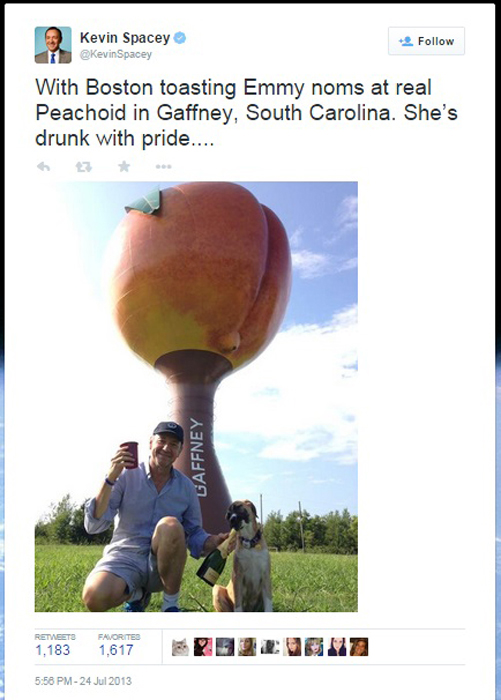 Spacey tweeted that photo to celebrate his Emmy nomination for Outstanding Lead Actor in a Drama Series. House of Cards, in fact, is a notable first in that it is the first exclusively on-line show to receive an Emmy nomination (it received 9 nominations and 3 wins for its first season).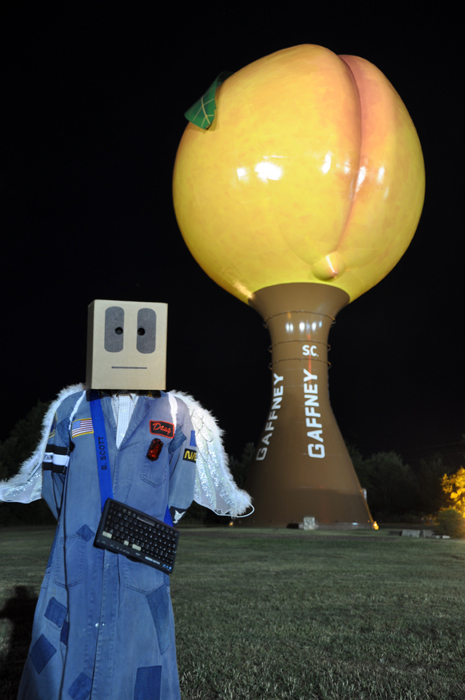 Slobot loved the Peachoid! Slobot would like to thank the Gaffney Board of Public Works, Jack Millwood, Peter Freudenberg, Kevin Spacey and YOU!