Eat a Peach!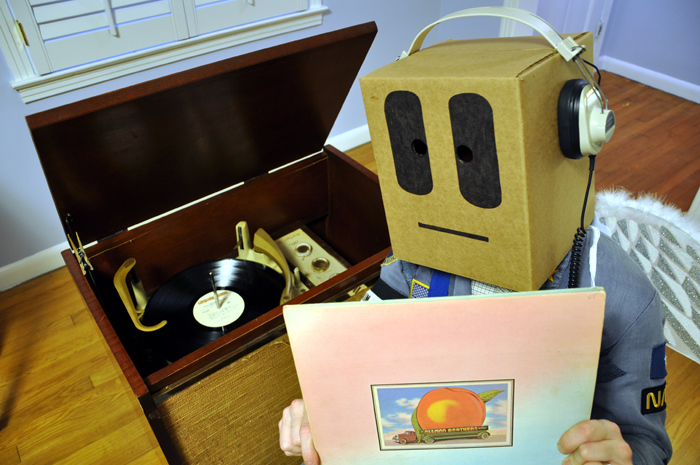 Slobot was groovin' to the Allman Brothers Band's Eat a Peach LP when it dawned on Slobot that he really, really wanted a peach.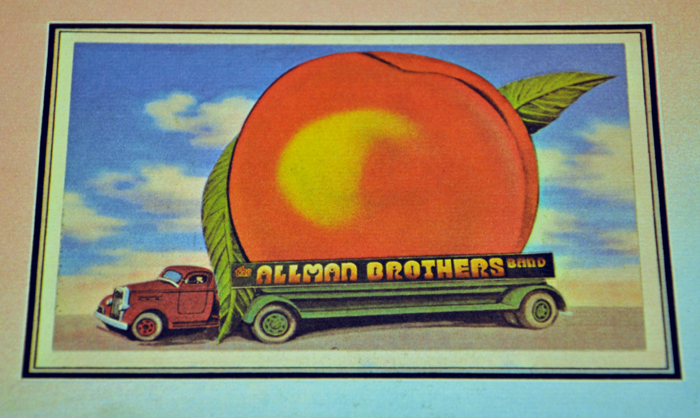 Perhaps it was because Slobot had visited the Peachoid in the previous episode, or perhaps it was due to Eat a Peach's peach-centric album artwork. All Slobot knew was that he pined for peaches.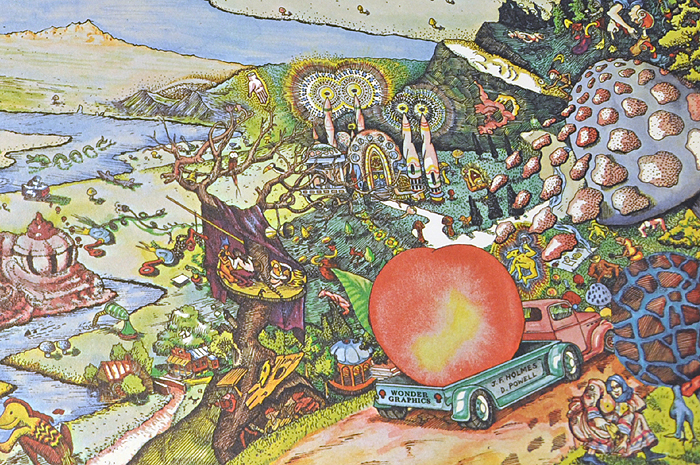 The artwork that seemed to be driving Slobot's peach penchant was by J. F. Holmes and D. Powell of Wonder Graphics.
The Eat a Peach gatefold LP opens up to reveal a resplendent scene, one that evokes all the magical mystery of a Mellow Mushroom menu. Slobot wanted to get to the bottom of this peachy mystery...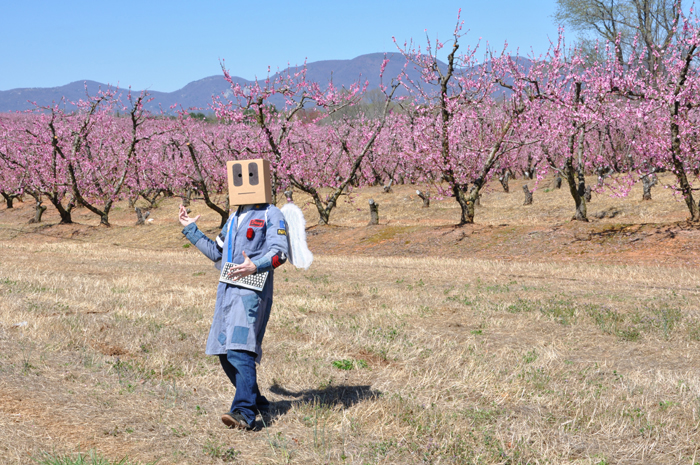 and so Slobot went to the root - or blossom - of the matter.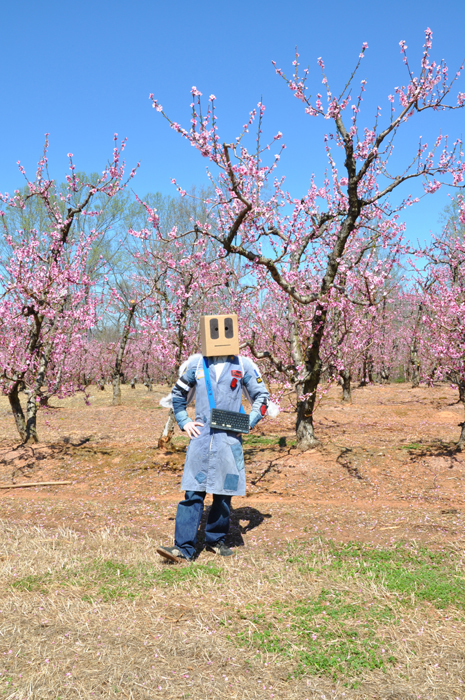 Apparently the name of the album is a reference to something the late Duane Allman said, "You can't help the revolution, because there's just evolution ... Every time I'm in Georgia, I eat a peach for peace."
Duane Allman died in a motorcycle wreck in 1971, and so Eat a Peach was named in his memory.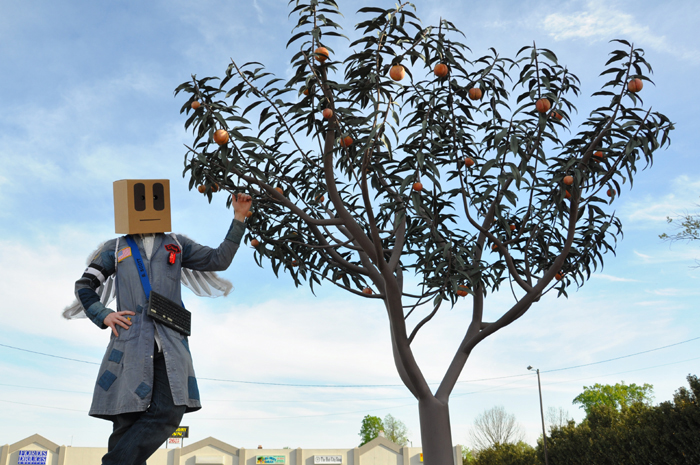 As Slobot continued in his pursuit of the peachy truth, he came upon this life-like statue of a peach tree. The statue, which stands at the intersection of Main and Pine Streets, is called Peach Tree, and it was crafted by Converse College graduate Berry Bate. Bate, who now lives in Arden, NC, personally cut and hammered the sculpture's 2000+ leaves. Other ironwork by Bate can be found at the Biltmore Estate, Asheville's Grove Park Inn and Chimney Rock State Park.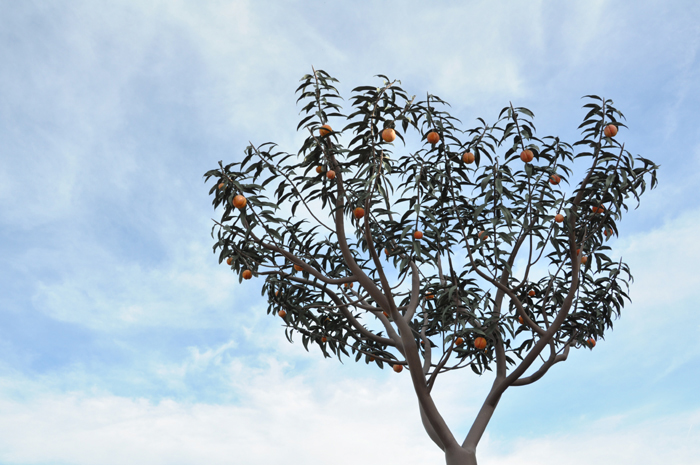 Peach Tree was commissioned by the non-profit Graffiti Foundation as part of a beautification project centered around the intersection of Main and Pine Streets. Peach Tree was dedicated on April 27, 2005.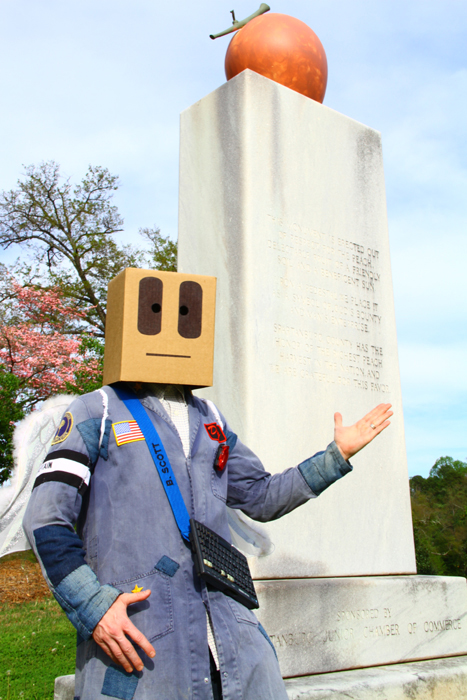 On Asheville Highway Slobot found another monument to peaches, this one sponsored by the Spartanburg Junior Chamber of Commerce and dedicated August 26, 1947.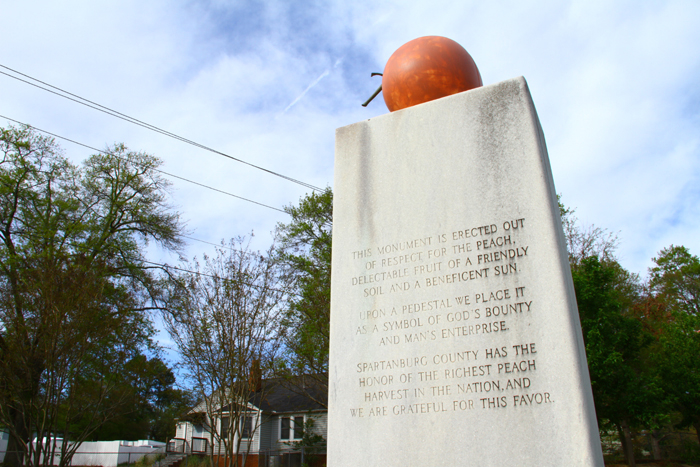 It's hard to imagine a time when peaches did not grow in South Carolina. It's even harder to imagine a time when peaches didn't grow in the Americas.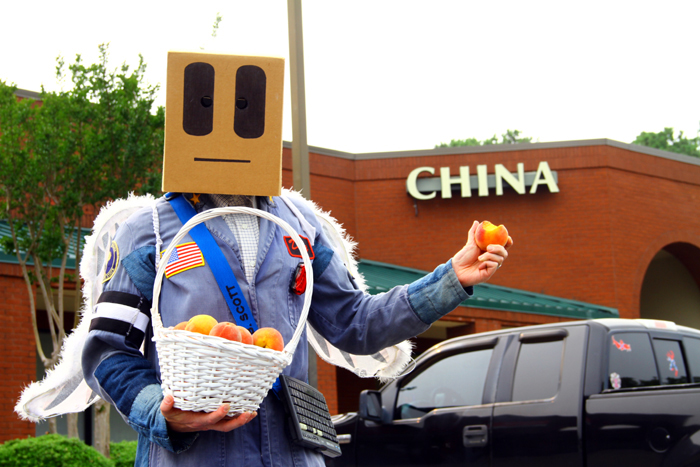 The surprising thing is that peaches are an old world crop, first domesticated in China! At the turn of the 20th century the peach was hardly even heard of in South Carolina, but by 1984 the peach had become the state fruit! As Americans adopt foreign ways, we tend to make them distinctively American - witness the transformation of the croissant into the croissan'wich. And so the same process of Americanization would happen to the peach.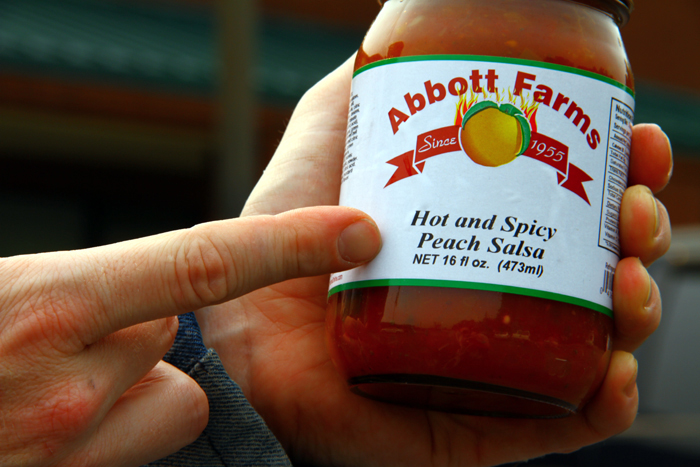 Witness the hot and spicy peach salsa!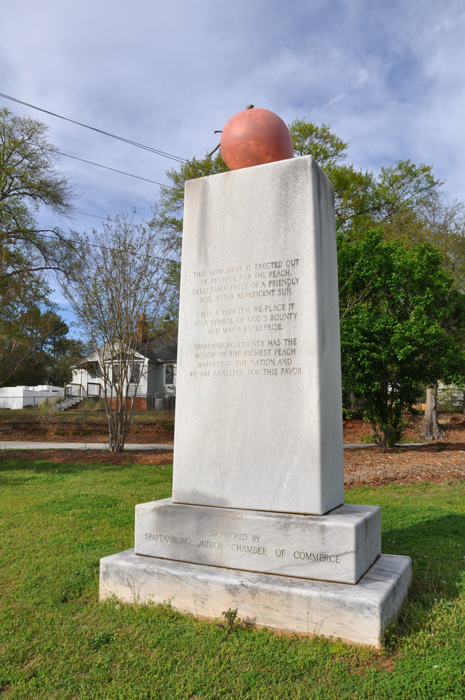 So how did the peach make its way from China to the Americas? It is thought that Spanish traders brought the peach from China to the southern United States in the 1500s. It is also thought that Native Americans began to cultivate this new fruit. English settlers, having seen Native American peach production, took it that the peach was a new world product. Soon English settlers, too, were growing peaches. According to Clemson University the first significant peach orchard in the Piedmont of South Carolina belonged to J. Verne Smith. Smith's original orchards were located east of downtown Greer on Mount Vernon Farm. Though Smith gets the credit for being first to grow peaches in the Upstate, Ben Gramling was the first to popularize the peach in Spartanburg County. Ben Gramling's father, Henry Hardy Gramling, is largely responsible for the community that bears his name. Henry had been an itinerant wheelwright but decided to settle down when he met a local woman Frances Elizabeth Booker. The two would marry in 1854 and begin a family. When the Southern Railway began to build tracks through the area, Henry Hardy Gramling would help with the grading. Henry made sure that a spur was added to the line so that local goods could be moved by rail. Henry Harding would die in 1895, and his sons Jon and Ben would go into business for themselves the following year.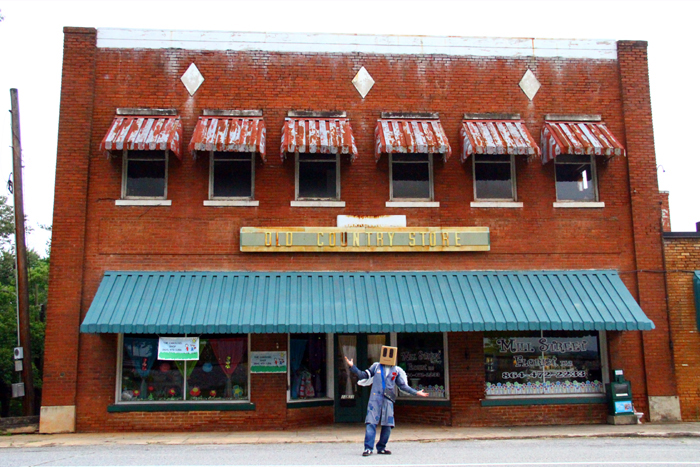 On June 13, 1913 Ben and John moved into a two-story brick building with a general store on the ground floor and coffins on the second. Ben Gramling also grew cotton, corn and other crops. On the suggestion of a friend Ben decided to give peaches a try. Around 1918 Ben Gramling planted 10 acres of peaches. 3 years later Ben Gramling would harvest his first peaches. Other farmers followed in Gramling's footsteps and also planted peaches. In 1924 Gramling and other peach growers banded together and filled four train cars with fresh peaches bound for out-of-state markets. That shipment is commemorated with a statue on Asheville Highway. Slobot likes to think of this statue as Spartanburg's own little Peachoid.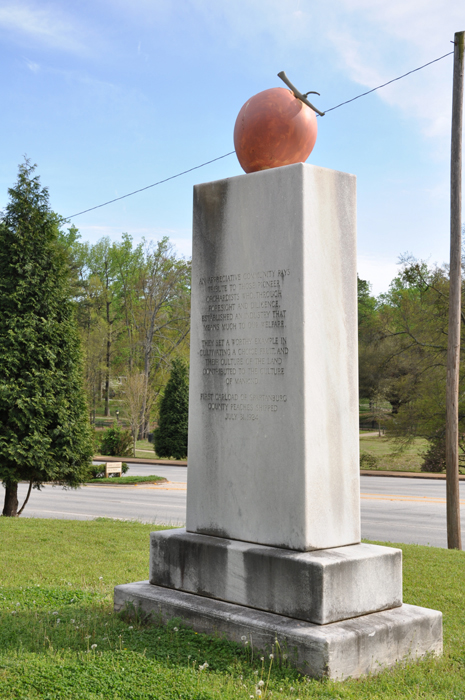 The statue reads:
"AN APPRECIATIVE COMMUNITY PAYS
TRIBUTE TO THOSE PIONEER
ORCHARDISTS WHO, THROUGH
FORESIGHT AND DILIGENCE,
ESTABLISHED AN INDUSTRY THAT
MEANS MUCH TO OUR WELFARE.
THEY SET A WORTHY EXAMPLE IN
CULTIVATING A CHOICE FRUIT, AND
THEIR CULTURE OF THE LAND
CONTRIBUTED TO THE CULTURE
OF MANKIND.
FIRST CARLOAD OF SPARTANBURG
COUNTY PEACHES SHIPPED
JULY 31, 1924."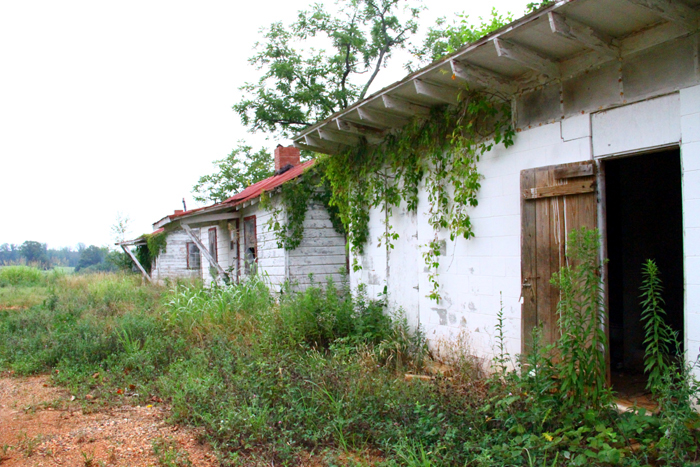 Over time Ben Gramling's peach production expanded to some 1000 acres in the Gramling area along with another 1000 acres in southern Spartanburg County.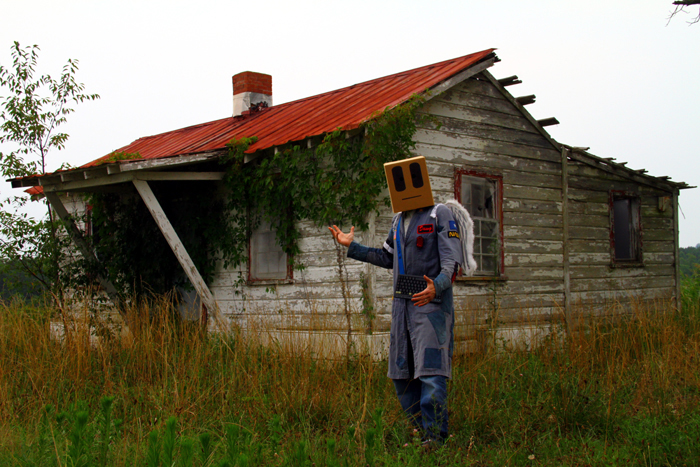 Ben's grandson, Henry Gramling, would continue to grow peaches. The Gramlings would eventually outstrip the local labor supply and so have to hire migrant labor.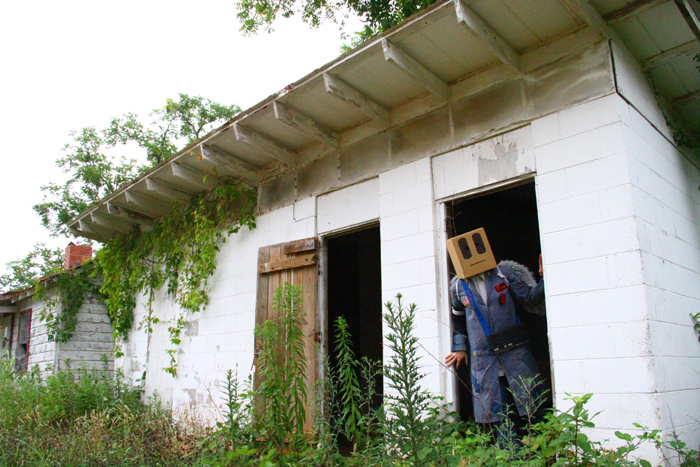 Those migrant laborers stayed in these sheds on the Gramling family farm.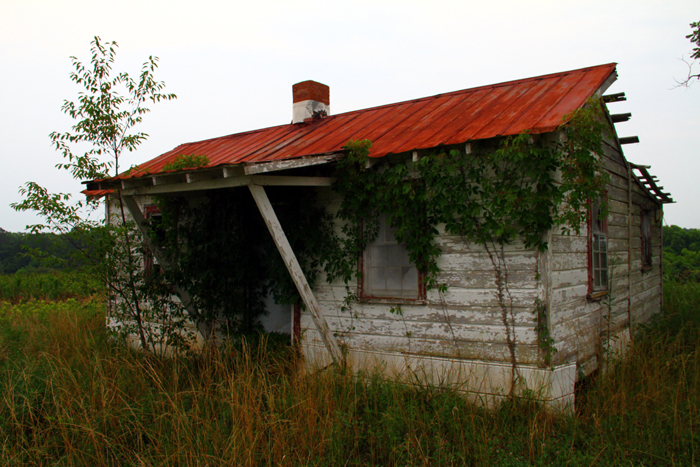 The Gramling family would branch out into other businesses, including real estate as well as the growing of other agricultural products, such as strawberries.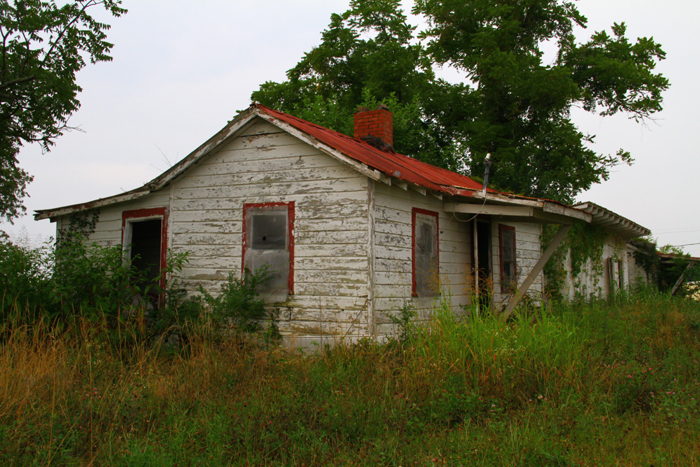 It's a good thing the Gramling family diversified as peaches can be a fickle friend.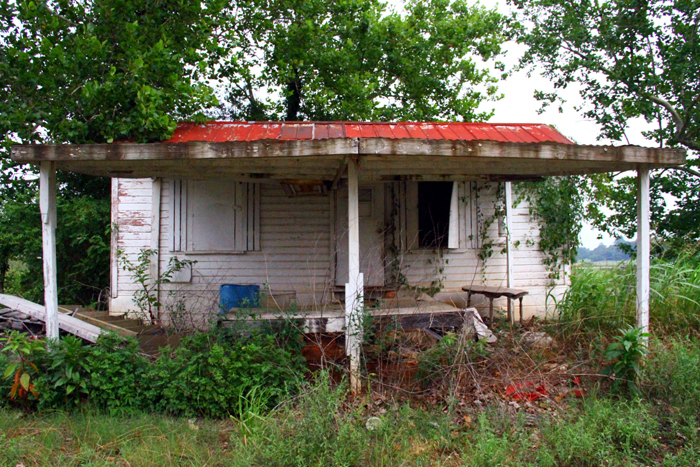 By 1981 there were some 13,000 acres of land dedicated to peaches in Spartanburg County.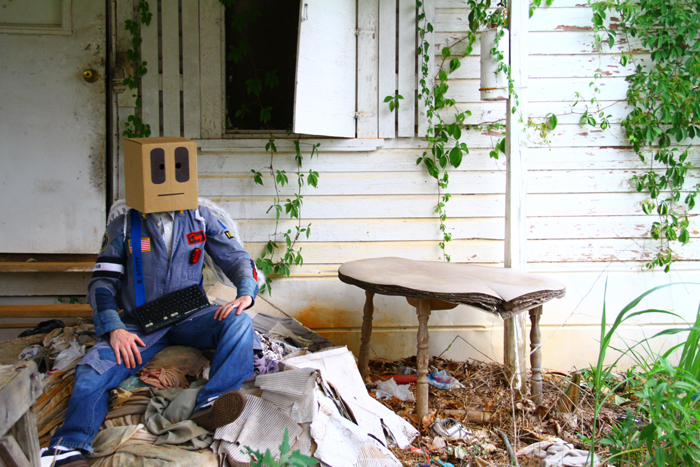 Those teeming acres were devastated by freezing weather in the years of 1982, 1983 and 1985.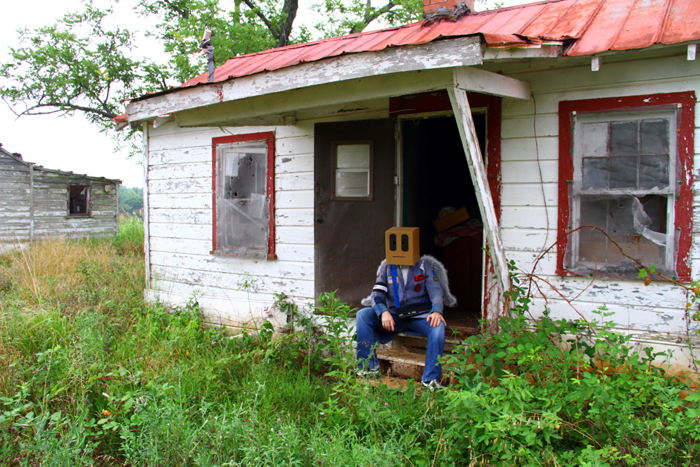 Despite these cold years farmers continued to raise peaches, and, indeed, 1984 was a banner year for peach production.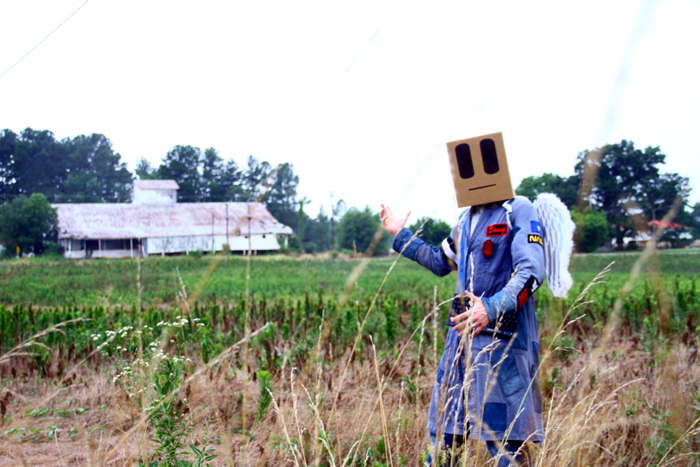 In that year the state of South Carolina produced 480,000 tons of peaches. That same year the legislature recognized the peach as the state fruit of South Carolina.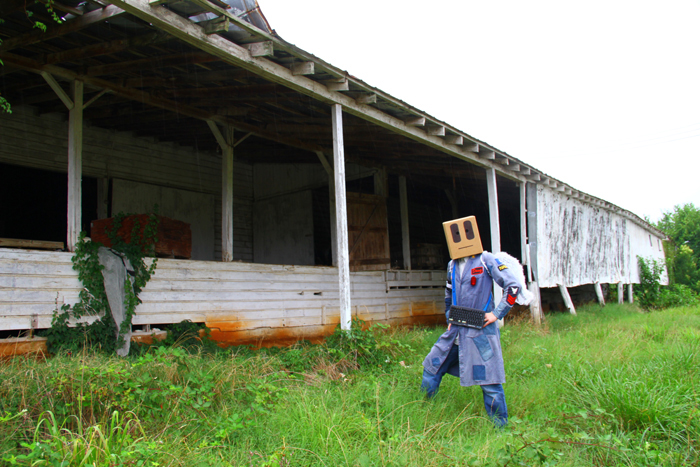 This all sounds well and good, but a surplus of this size was devastating to peach farmers as it drove prices down.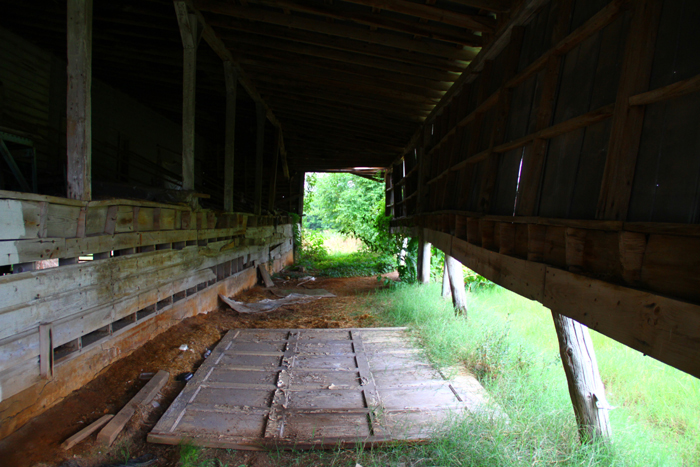 Furthermore, the construction of new industrial plants and residential developments displaced peaches from the land upon which they once grew.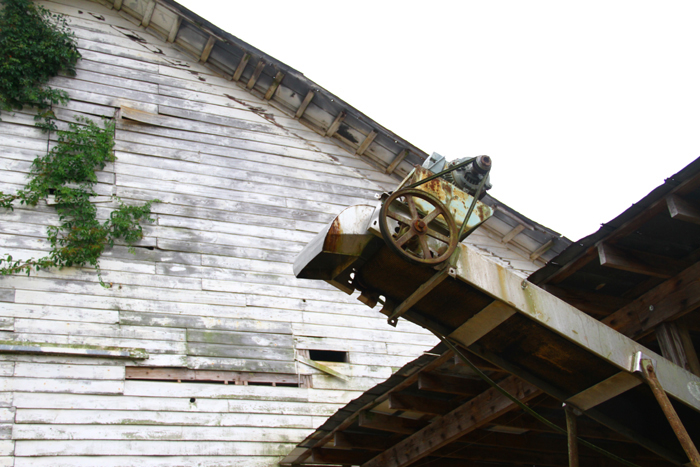 According to the Department of Agriculture, the acreage planted in peach trees dropped form forty-three thousand in 1985 to only seventeen thousand a decade later, and only five thousand of those acres were in Spartanburg and Cherokee counties.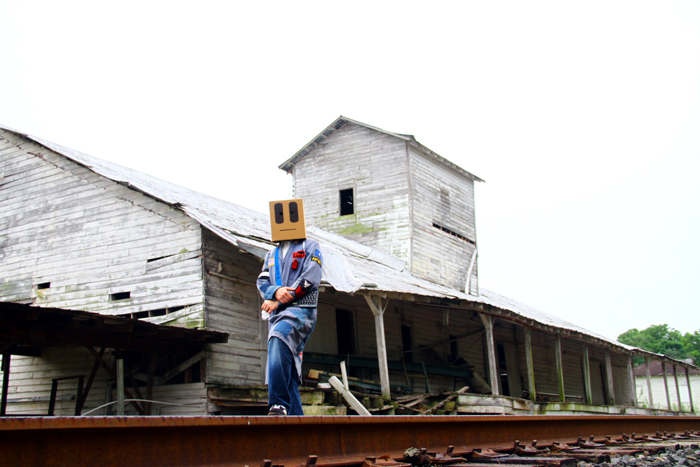 Today the reigning peach state is California, which - in 2013 - produced 648,000 tons of peaches compared to South Carolina's 69,650 tons of peaches. Slobot loves peaches, and is proud to live in the second most peach-producting state, South Carolina!
Slobot would like to thank the Allman Brothers Band, J. F. Holmes, D. Powell, Gramling Farm and YOU!