Slobot About Town LXX:
Mill Mania, pt. 02!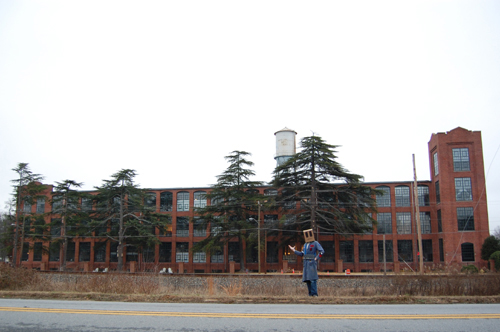 Slobot was milling about Arcadia when he stumbled upon a wonderful old mill.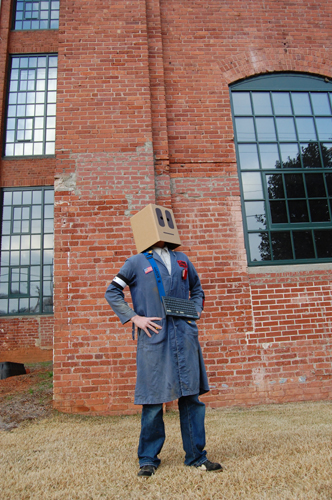 Slobot soon realized that he had discovered Mayfair Mill #2!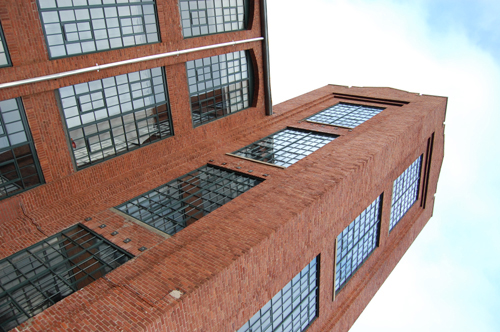 When it was built it was known as Arcadia Mill #2, the second of two Arcadia Mills built by Spartanburg druggist, manufacturer and financier Dr. Henry Arthur Ligon, Sr. (1856-1925).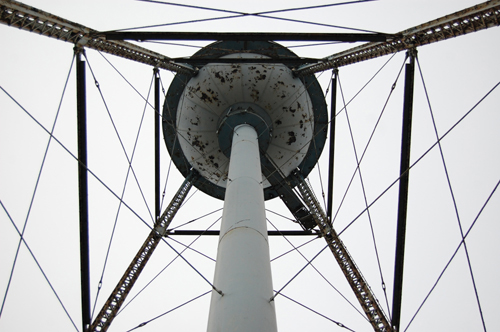 Dr. Ligon built the first Arcadia Mill in 1902.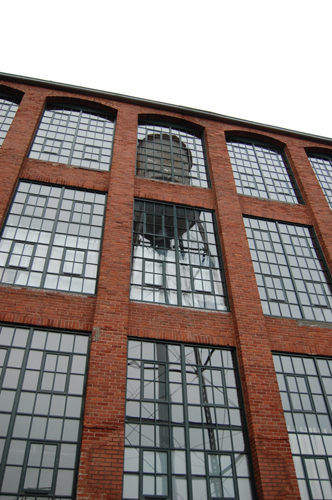 The success of that mill led Ligon to build Arcadia Mill #2 in 1922.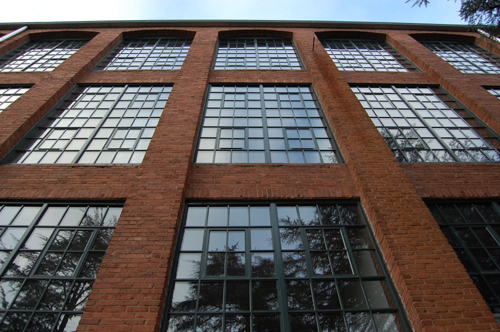 Arcadia #2 opened in 1923 and, like Arcadia #1, it was initially successful.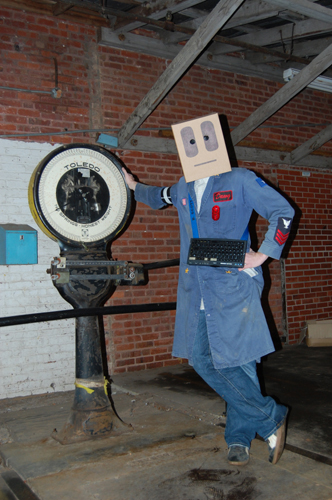 The company, however, would go bankrupt in the wake of the stock market crash of 1929. In 1934 the Arcadia Mills were sold to Mayfair Mills, Inc., a company newly organized by Joshua L. Baily.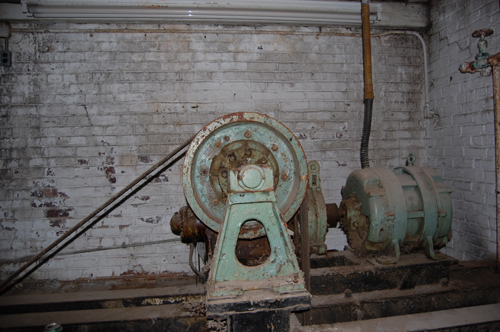 Arcadia Mill #2 became known as the Baily, or Mayfair-Baily, Mill.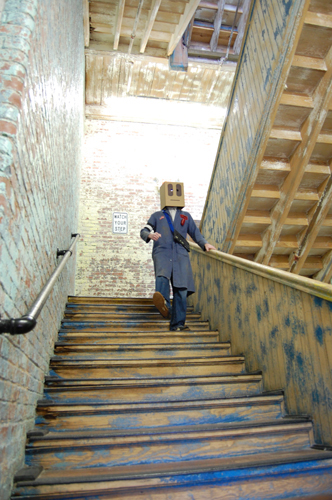 Mayfair Mills filed for Chapter 11 bankruptcy protection in 2001 and closed all its plants. At the time of its closing Mayfair Mills made fabric for industrial, apparel and home-furnishings markets.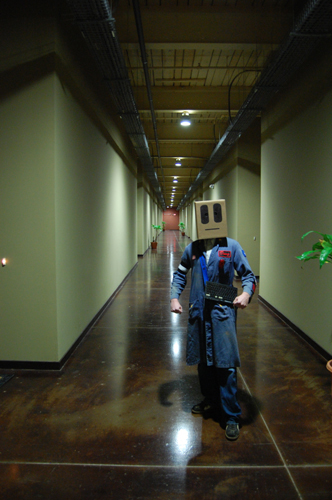 Pace Burt, a Georgia developer, bought Mayfair Mill #2 in 2005. Burt hoped to do to Mayfair #2 what he had done for Monaghan Mill in Greenville, convert it into lofts.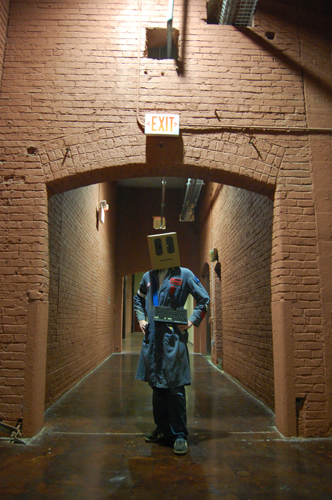 In developing Mayfair #2 Burt was faced by a major obstacle. The mill is located along a portion of the Norfolk Southern railroad that sees some 20 trains a day. Train noise would hamper efforts to reach occupancy and so Burt sought and was granted a federally sanctioned "whistle ban" for the West Cleveland and Hayne Street crossing. With the whistle ban in place Burt would open Mayfair Mill Lofts in 2007.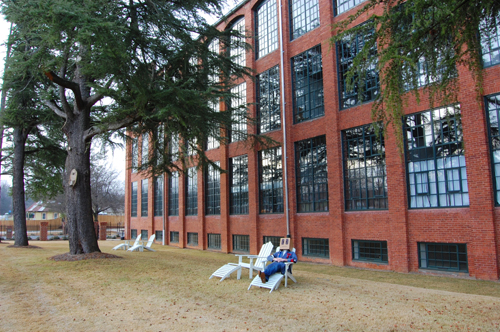 Slobot enjoyed Mayfair Mill #2, but he enjoyed napping at Mayfair even more.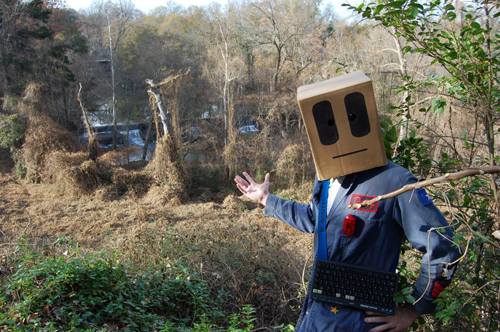 An afternoon of exploring and napping made Slobot hungry and so Slobot meandered his way towards New China Restaurant on East Main Street. From the parking lot of New China Slobot happened to notice a waterfall nestled deep in a ravine below.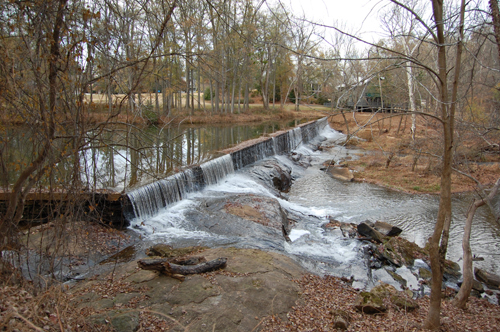 Slobot scampered down the kudzu-clad cliff to get a closer look at the waterfall.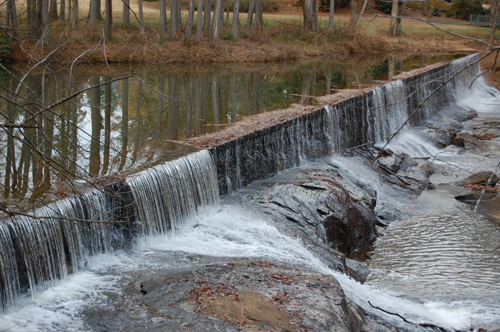 The waterfall, Slobot found, was the result of a small dam along Lawson's Fork Creek.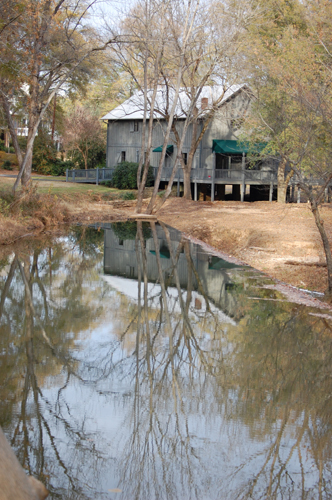 The dam once powered a small grist and saw mill.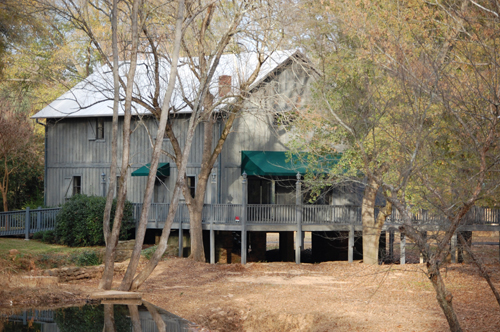 The foundations of the old mill remain, though they are now topped by the clubhouse of the White's Mill neighborhood.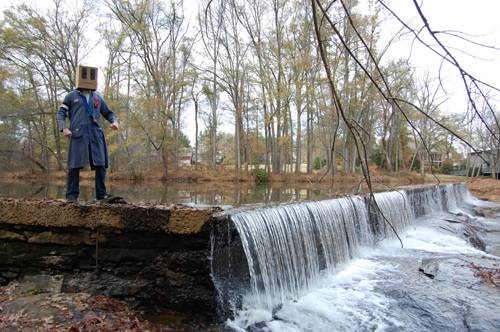 The original grist and saw mill was built in the latter half of the eighteenth century by Alexander McKie.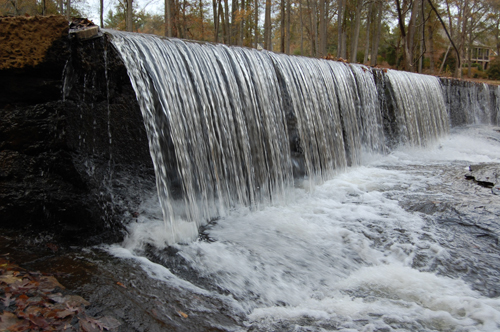 Alexander McKie was among the first settlers of what is now the City of Spartanburg.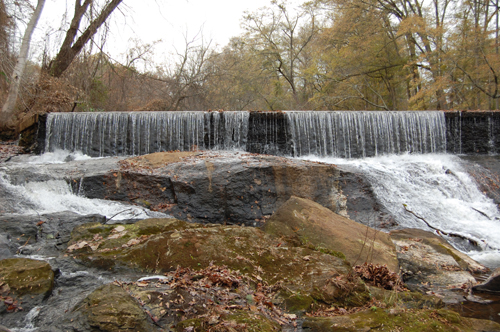 The White family would acquire the mill in 1863 and the mill has been known as White's Mill ever since.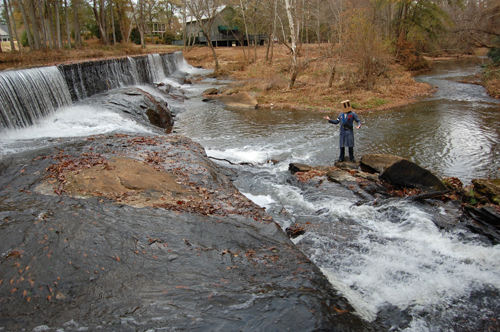 Slobot just loved White's Mill.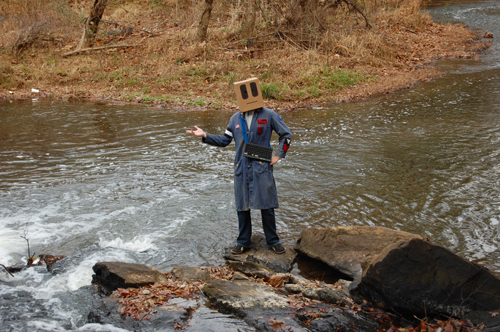 Slobot was standing below the dam and admiring its beauty...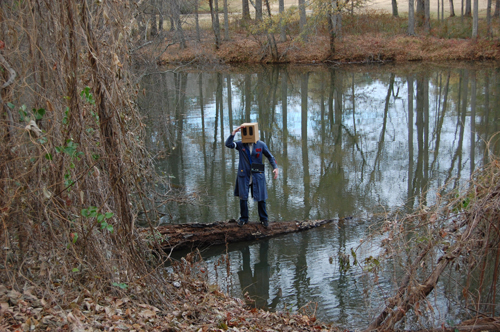 when he saw a strange object.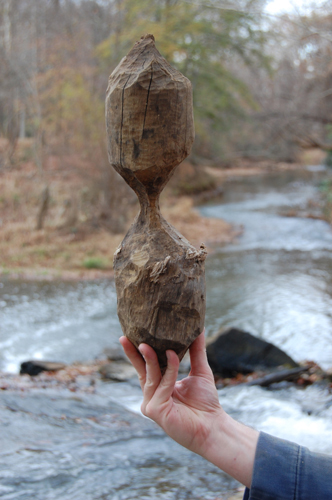 Slobot retrieved the object, which to him appeared to be a dumbbell.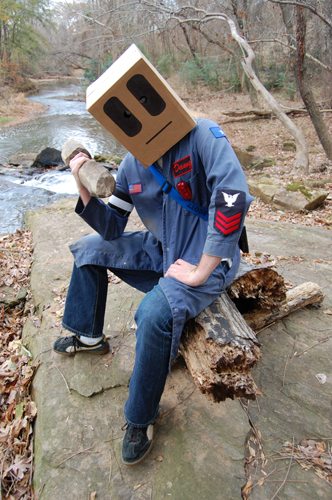 Slobot was in mid workout before he realized that the object wasn't a dumbbell at all, it was a beaver-chewed log!
Slobot would like to thank Mayfair Mill Lofts, White's Mill and YOU!