Slobot About Town LXXI:
Slobot visits the Historic Homes of Spartanburg, pt. 04!
Slobot awoke to find that he had spent the night at a construction site on Glendalyn Avenue.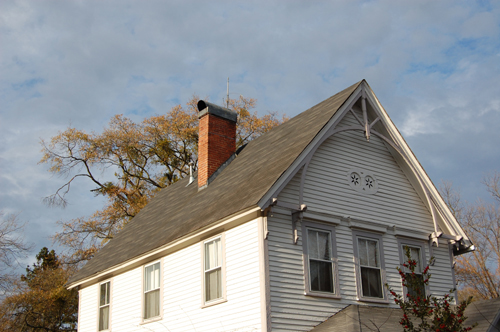 Slobot looked up to see a beautiful old home.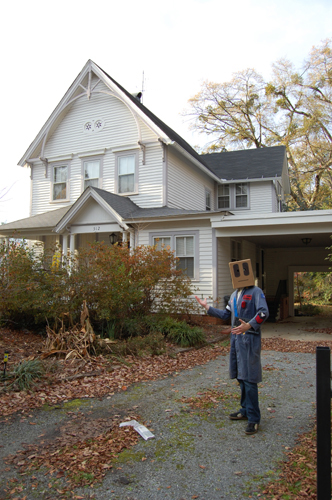 Built in 1867, it is one of the oldest homes in what is now the Converse Heights neighborhood.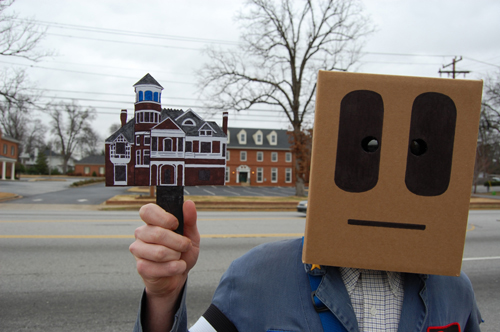 One of the classic homes of Converse Heights was the house that Albert H. and Mary B. Twichell built.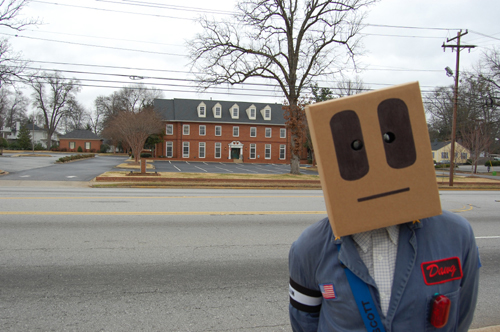 The Twichells built their home near the intersection of Pine Street and Glendalyn Avenue in 1882. After Albert Twichell's death in 1916, the house would be acquired by the Fretwell family, who would live in the house until the 1970s. In 1979 the house would be razed for business purposes.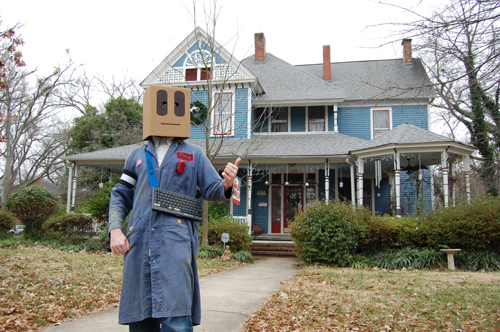 In Hampton Heights Slobot uncovered this bewitching blue home.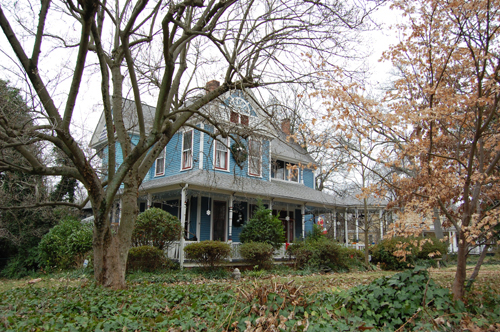 Walter S. Montgomery built the house in ~1902 and lived there until 1911.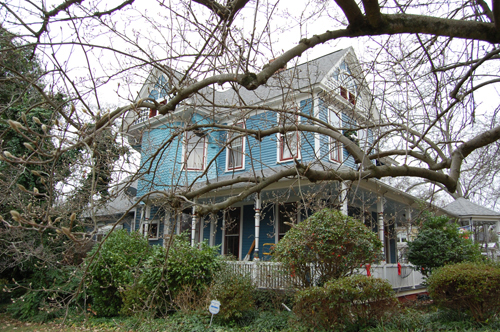 In ~1936 the house would be purchased by Oren Brady, Sr. Brady's daughter, Una May Brady Lowry, and her husband, John D. Lowry, would live in the house until the 1980s.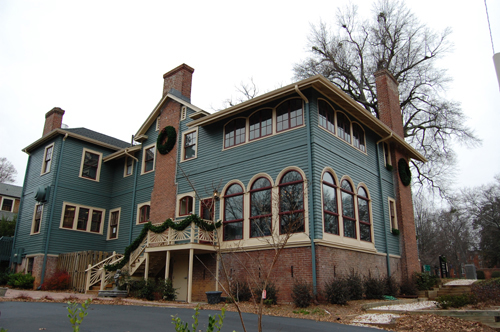 Slobot made his way back to Converse Heights were he found the Charles Pinckney Wofford House, which was built by Ella Buchanan Carlisle Wofford (1858 - 1948) at the turn of the last century.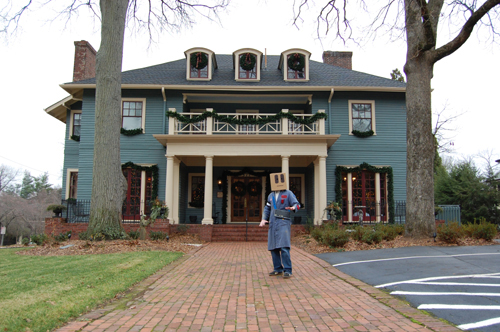 Ella Wofford was the widow of Charles Pinckney Wofford (1855 - 1886). The family would lose their home in the wake of the stock market crash of 1929.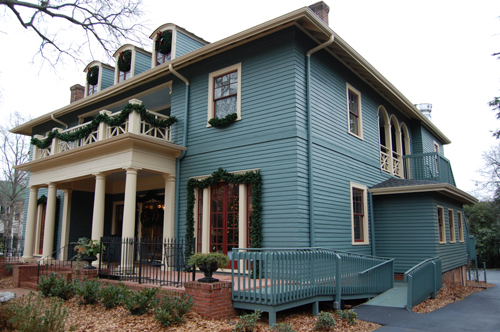 Today the house is home to Theodore Morris Home Accents & Distinctive Gifts.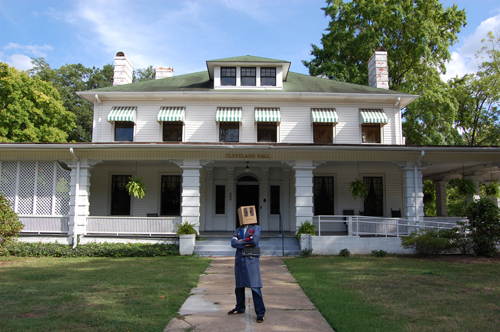 Directly across Mills Avenue Slobot found the Cleveland Alumnae House. The Cleveland Alumnae House was built in 1905 as the home of Aug. W. and Belle Smith.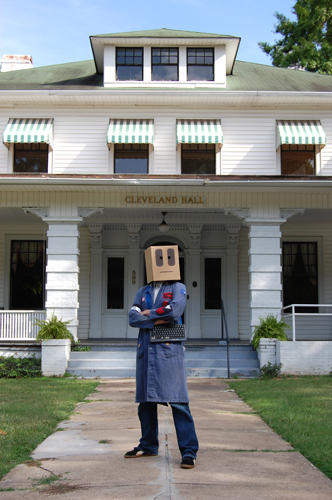 In the 1970s the home was purchased by Arthur F. and Chevillette Cleveland. Their heirs donated the house to Converse College who, for a number of years, used the building as an Alumnae House.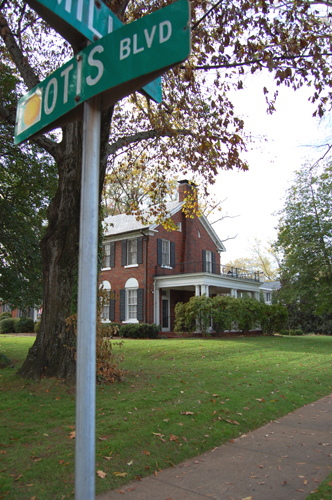 Slobot made his way to Otis Boulevard where he found the former James Francis (1882 - 1972) and Maude Byrnes (~1883 - 1976) House.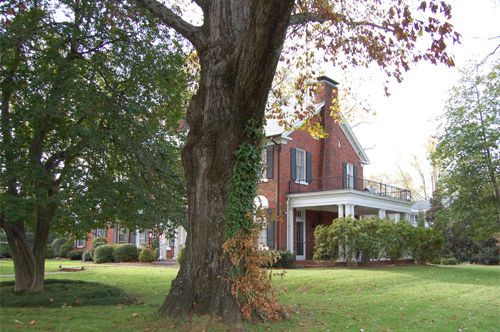 James F. Byrnes is a Spartanburg legend. He began his political career with a stint in the U.S. House of Representatives, where he would serve from 1911 to 1925. In 1924 Byrnes made an unsuccessful bid for the U.S. Senate and, in the wake of his defeat, Byrnes would move to Spartanburg. Byrnes would practice law in Spartanburg until 1930 when he made a second, and ultimately successful, bid for the U.S. Senate. Byrnes would serve in the U.S. Senate until 1941 when he was named to the U.S. Supreme Court. When the U.S. entered World War II Byrnes would resign in order to head the War Mobilization Board. In 1943 Byrnes would step down from the War Mobilization Board and return to his home in Spartanburg.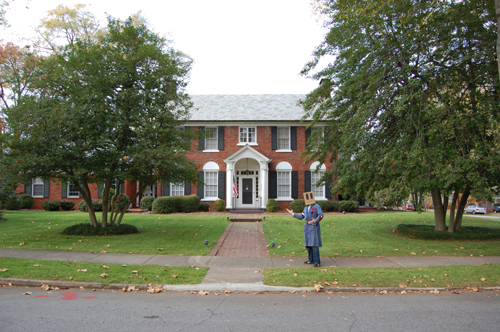 Byrnes' involvement in WWII, however, was far from over. In 1945 Dr. Leo Szilárd of the Manhattan Project requested a direct meeting with Harry Truman, who had only just assumed the presidency, in order to urge Truman against using nuclear force against Japan. Truman, rather than meet directly, sent Szilárd to see James Byrnes who, unbeknownst to Szilárd, would soon to be named Secretary of State. Szilárd and two colleagues, Harold Urey and Walter Bartky, went to see Byrnes at his home in Spartanburg on May 28, 1945. That meeting would see Byrnes argue the effectiveness of using the nuclear bomb as a means of halting Soviet expansionism in the post-war period. Szilárd would later write of his meeting with James Byrnes, "I was rarely as depressed as when we left Byrnes' house..."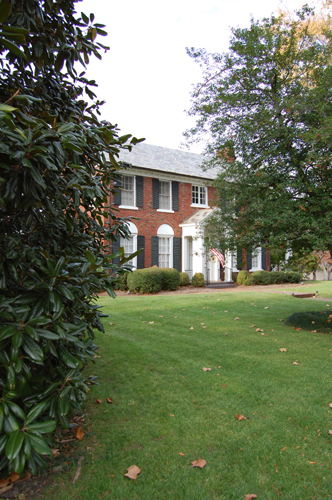 On July 3, 1945 Byrnes would become U.S. Secretary of State and would so become instrumental in the use of atomic force against Japan. Byrnes would continue to serve as Secretary of State until 1947 and, in that time, he would go to the Yalta Conference and be named Time magazine's Man Of The Year (1946).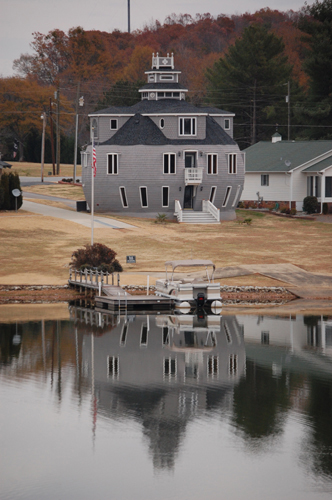 Slobot has long heard people speak of a "round house" at Lake Bowen. Slobot, having never seen the house, resolved to find it.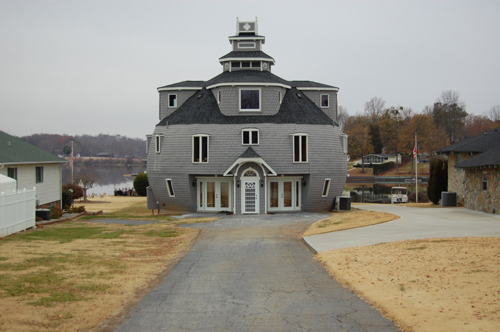 It was a long walk from Converse Heights but Slobot eventually made it to Lake Bowen.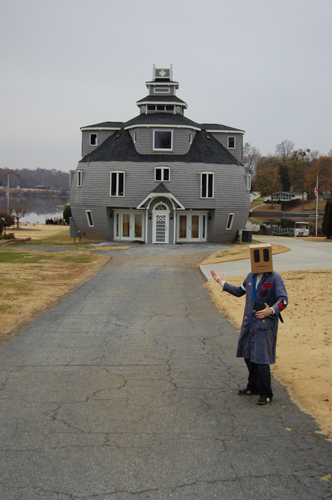 Slobot just loved the storied and spherical house!
Slobot would like to thank the neighborhoods of Converse Heights, Hampton Heights, Lake Bowen and YOU!