Slobot About Town LXXXIV:
In Search of Daniel Morgan.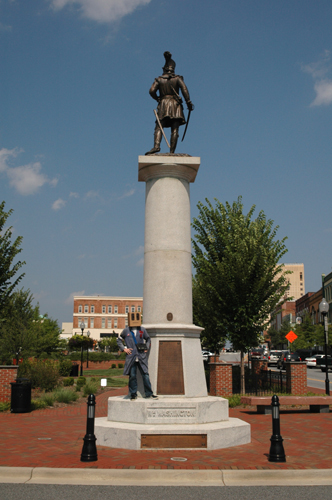 Slobot was hanging out in downtown Spartanburg when he happened to notice the statue of Daniel Morgan that loomed large above him. Slobot wanted to know more about the man, the myth and the legend that is Daniel Morgan and so Slobot set out on a journey of discovery.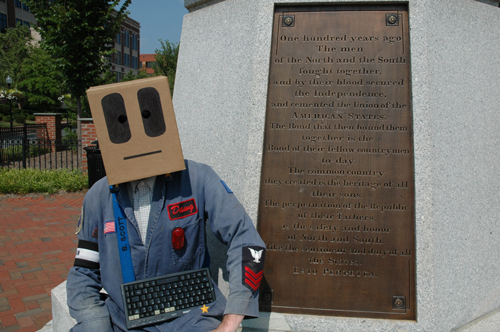 Slobot soon learned that Daniel Morgan was born the fifth of seven children to Welsh parents in Hunterdon County, New Jersey in 1736. It is said that Daniel Morgan left home after quarreling with his father, James Morgan, in ~1753. Morgan made his way south along the Great Wagon Road, eventually settling in what is now Winchester, Virginia where he worked a variety of jobs before settling on a career as a wagoner.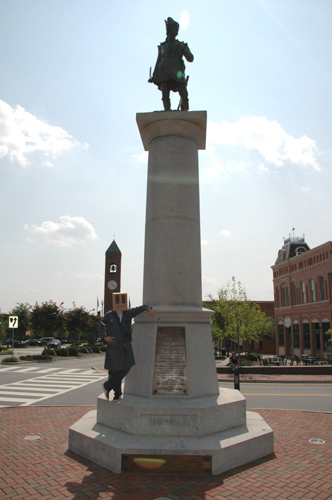 When the French and Indian War (1754 - 1763) erupted a young Morgan found himself in the employ of Major General Edward Braddock, commander-in-chief of the British Army in America, as a civilian wagoner. Another famous American, Daniel Boone, also served as a wagoner on Braddock's ill-fated expedition to Fort Duquesne in 1755. Fort Duquesne had been built by the French at the confluence of the Allegheny and Monongahela rivers (the forks of the Ohio River) in present-day Pittsburgh, Pennsylvania. On July 9, 1755 Braddock's forces crossed the Monongahela as they made their way to Fort Duquesne. After crossing, Braddock's men (some 1400 of them) unexpectedly came upon French and Indian Forces (~300 - 900) in what has become known as the Battle of the Monongahela. In that battle Braddock would be shot from his horse and would ultimately die, on July 13, from his wounds.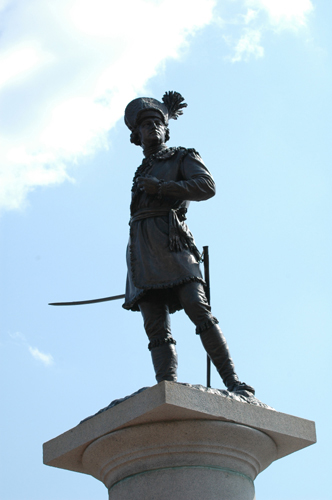 In this same time period Morgan managed to irritate a British officer and so was struck with the flat of the officer's sword. Morgan, in return, struck the officer and was subsequently court-martialed and sentenced to 400 - 500 lashes. This would be the first, but not the last, of the injuries he received while in service. In 1758 Morgan became an Ensign in a company of rangers serving the British Army. It was in this capacity that he and two others were ambushed by Indian forces. Morgan was struck in the neck by a bullet that ultimately exited his cheek, knocking out all the teeth in his left jaw.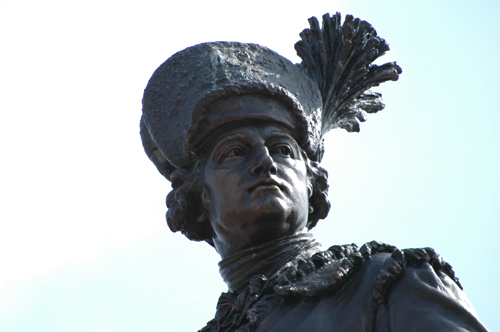 Towards the end of the French and Indian War Morgan bought a house in Winchester, Virginia. In ~1763 Morgan began living, out of wedlock, with a young woman named Abigail Curry. Abigail and Morgan would have two daughters, Nancy and Betsy. Morgan would make an honest woman out of Abigail by marrying her in 1773.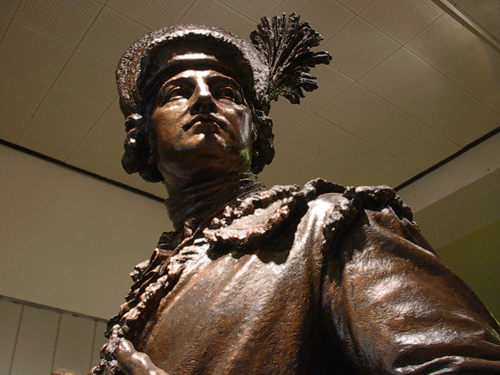 Morgan's domestic bliss would be shattered by the Battles of Lexington and Concord on April 19, 1775. In response to Lexington and Concord the Second Continental Congress called for companies of riflemen to be formed and sent to Boston to assist militias that were besieging Boston. Morgan assembled ninety-six recruits, most of which were equipped with rifles, tomahawks and scalping knives. Most, like Morgan, wore Indian clothing (long hunting shirts, moccasins). Captain Morgan and his men left Winchester, Virginia on July 15 and arrived in Boston on August 6.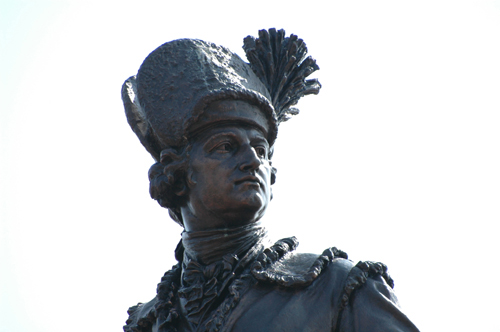 In September of 1775 Captain Morgan and his men were part of Colonel Benedict Arnold's expedition to Quebec City during the Invasion of Canada. Arnold would be shot through the leg during the assault on Quebec and it would be Captain Morgan that took command. American forces were ultimately defeated and Morgan would remain a prisoner of war until 1777. Morgan, however, was rewarded for his valor at Quebec City with a promotion to Colonel on November 12, 1776. Upon release Morgan joined General Washington's main army and was given command of 500 riflemen. Morgan would again distinguish himself at the First Battle of Saratoga in New York on September 19, 1777. Morgan hoped to lead an infantry brigade but was passed over for command because of his rank. A dissatisfied Morgan offered Congress his resignation on July 18, 1779. Congress refused Morgan's resignation and, instead, granted him a furlough.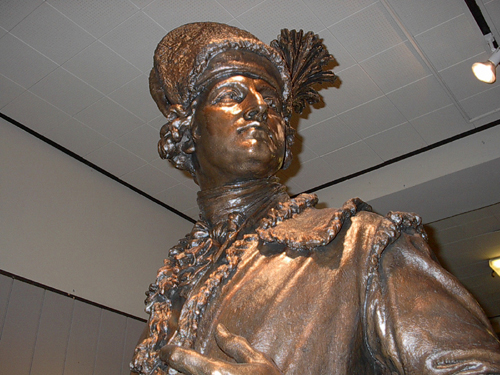 Morgan was recalled to duty in 1780, and - on October 13th of that year - he was made a brigadier general in the Continental Army. Between October and December of 1780 Brigadier-General Morgan and his "flying corps" scouted the Carolinas. On January 17, 1781 his forces engaged British forces in what would become one of the most celebrated Patriot victories of the American Revolution, the Battle of Cowpens, in what is now Cherokee County, South Carolina. His victory against Lieutenant Colonel Banastre Tarleton's superior forces was commemorated with a Congressional Gold Medal on March 9, 1781 and with a statue that was erected in Spartanburg's downtown on the 100th anniversary of the battle in 1881.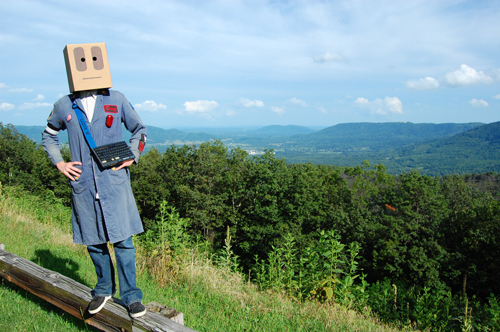 Slobot had learned a great deal about Daniel Morgan, but he wanted to know more, so Slobot walked to Winchester, Virginia.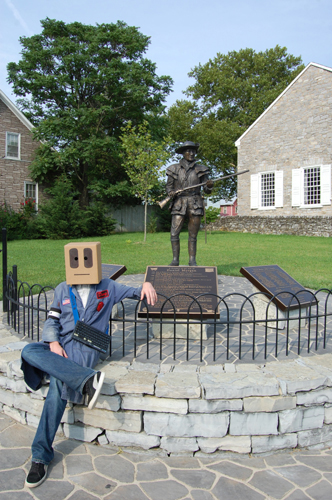 In Winchester, Virginia Slobot found another statue of Daniel Morgan.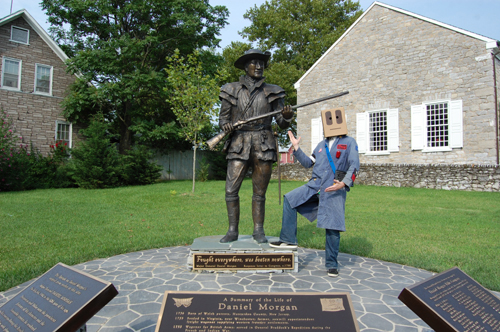 This statue was commissioned by the Daniel Morgan Rifle Company, a group of reenactors specializing in the historic Daniel Morgan Rifle Company (established 1775).
The statue stands adjacent to Morgan's old church, the Old Stone Presbyterian Church of Winchester, Virginia.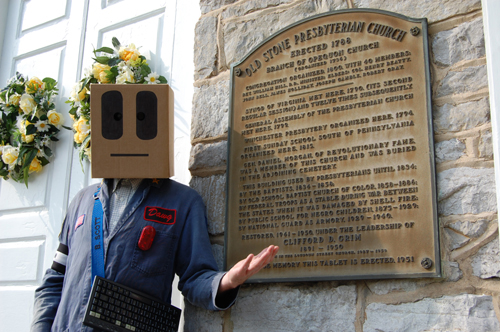 Old Stone Church was built in ~1788. The church is remarkably well preserved, though its east wall has been rebuilt. That wall had been struck by shell fire during the Civil War and it would collapse some fifteen years afterwards.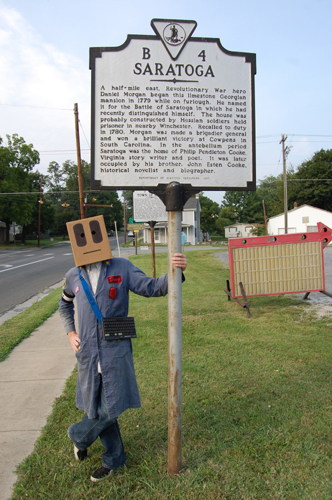 It would be while on furlough that Morgan would begin to build his limestone Georgian mansion in 1779. Morgan would name his home for the 1777 Battle of Saratoga in which he had distinguished himself. It would be a half-mile east of this historical marker, near Boyce, VA, that Daniel Morgan would begin to build his home.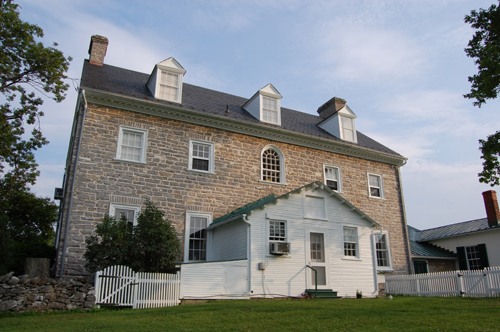 It is thought that the house was constructed by Hessian soldiers that were held prisoner in Winchester, Virginia. Built between 1779 - 1782, Saratoga is one of the largest and best preserved mansions of the Revolutionary period in the Shenandoah Valley. The main building is a two-and-one-half story stone house made of gray limestone and covered by a gable roof.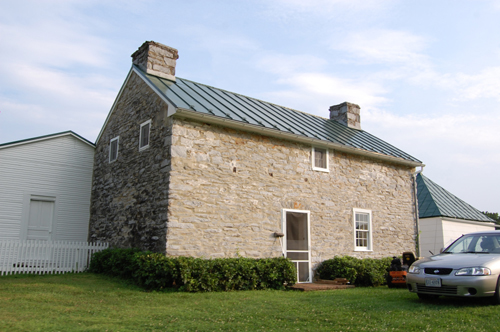 A one-story brick wing was added later. Other original buildings include a smokehouse, a stone shed and a stone dairy. Daniel Morgan lived at Saratoga from 1780 until 1798.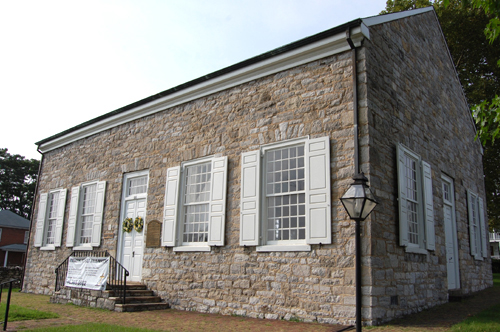 Morgan's health began to deteriorate and, in 1781, he returned to his home in Winchester, VA. Morgan would be promoted to Major General and, in 1794, Major General Morgan would be called to lead militia units in the suppression of the Whiskey Rebellion near Pittsburgh, Pennsylvania. He served in the United States House of Representatives on the Federalist ticket from 1797 - 1799. His health failing, Daniel Morgan moved to one of his smaller farms in 1798. In 1799 his health had declined to the point that he found it necessary to move in with a daughter. Daniel Morgan died at the age of 66 and was originally buried here, at the Old Stone Presbyterian Church in Winchester, Virginia in 1802.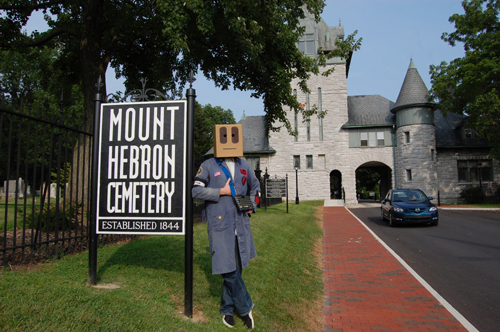 In 1834 the Old Stone Church was sold to the Baptist Church of Winchester. In 1844 Mt. Hebron Cemetery was established near the Old Stone Church.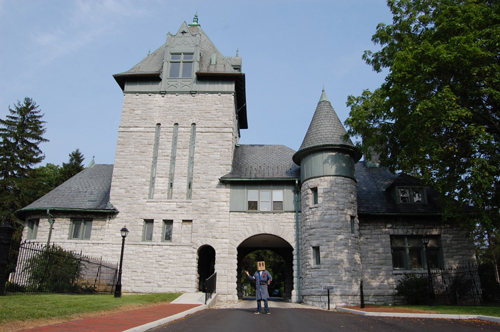 Graves at the Old Stone Church were then moved to Mt. Hebron Cemetery.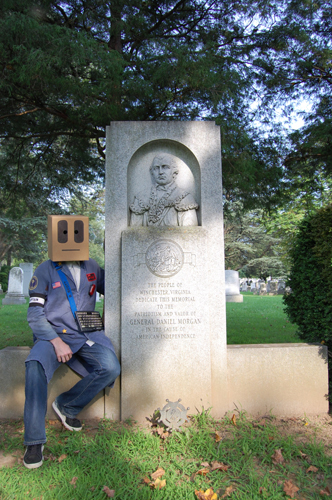 Daniel Morgan's grave was moved to Mt. Hebron on June 13, 1868.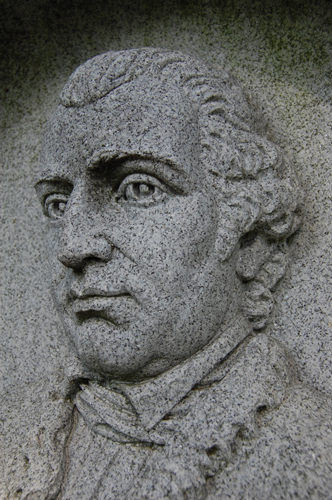 It would seem that Daniel Morgan would rest in eternal peace at Mt. Hebron.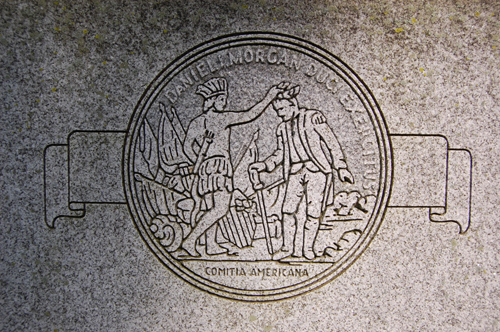 But then, in July of 1951, undertaker J. G. Floyd, attorney J. Manning Poliakoff, and others came to Winchester, Virginia to bring Morgan's mortal remains back to South Carolina.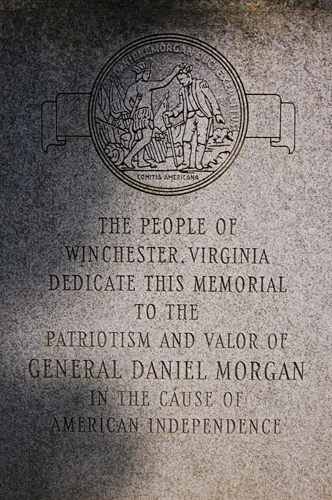 Furthermore, Floyd and Poliakoff had come to Winchester with a great-great-great-granddaughter's approval to move the body.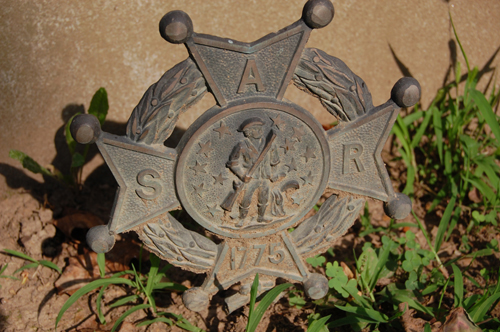 Things only got weirder as James F. Byrnes, then governor of South Carolina, entered the fray, arguing in favor of Morgan's remains being relocated to Cowpens.
Meanwhile, Virginia Senator Harry Flood Byrd argued that Morgan's remains should, well, remain in Winchester.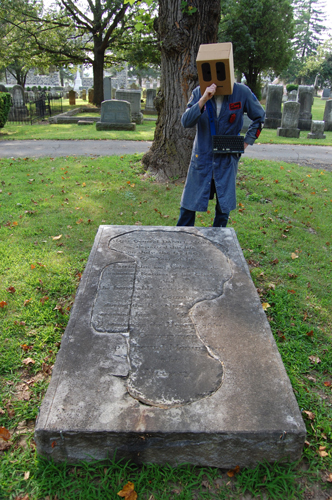 Soon the press picked up on the battle over Morgan's corpse and so, on September 3, 1951, Life Magazine published an article entitled, "Who Gets the General's Body?"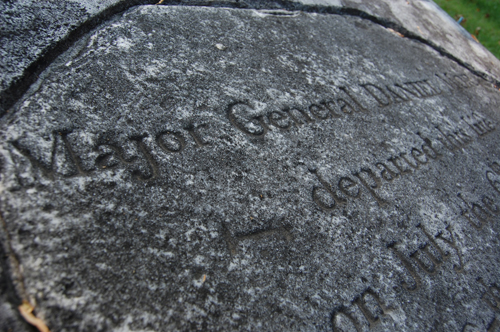 Today Major General Daniel Morgan's body rests peacefully in Mt. Hebron cemetery.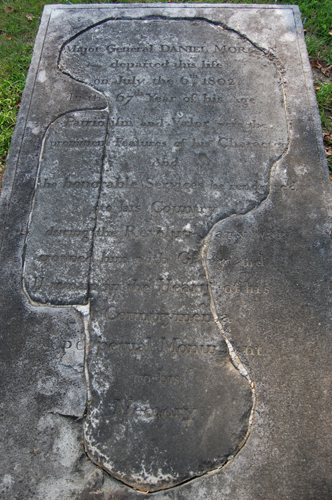 Morgan's grave reads as follows:
"Major General DANIEL MORGAN
departed this life
on July the 6th, 1802
In the 67th Year of his age.
Patriotism and Valor were the
prominent Features of his Character
and
the honorable Services he rendered
to his Country
during the Revolutionary War
crowned him with Glory and
will remain in the Hearts of his
Countrymen a
perpetual Monument
to his
Memory."
Stay tuned for the next edition of Slobot About Town in which Slobot goes to Washington, DC!