Slobot About Town XLVI:
Even More Signs, Signs, Signs!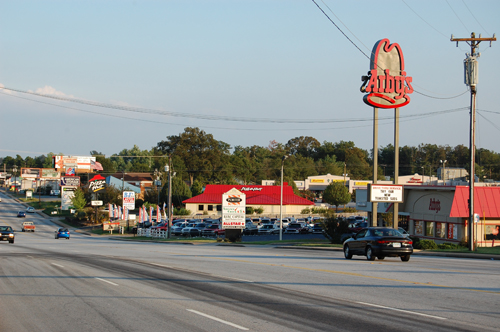 Slobot was strolling along Asheville Highway when he happened to notice the glut of gaudy signs that dot the Spartanburg landscape. Slobot must have counted 300 signs between Hearon Circle and Downtown Spartanburg!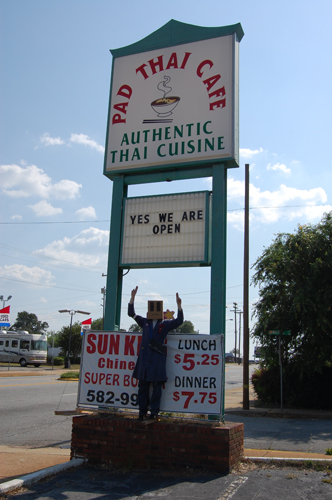 There are a variety of signs in Spartanburg, the first category of which are the misleading signs, like this one that insists the Pad Thai Cafe is open...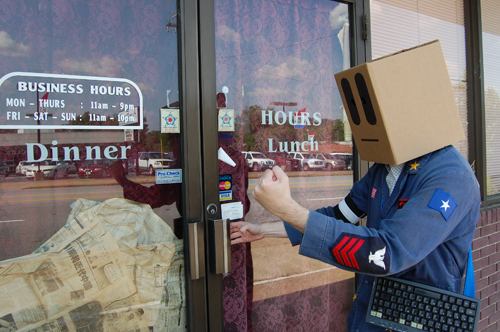 despite all evidence to the contrary.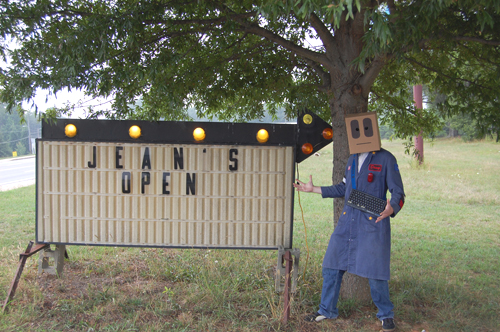 Another misleading sign is the one that advertises, "Jeans Open."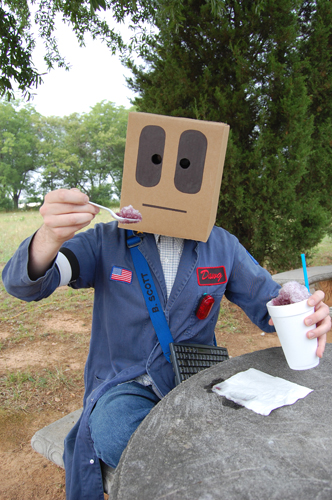 Slobot would soon learn that Jean is merely the owner of a shaved ice stand. Her jeans were not open.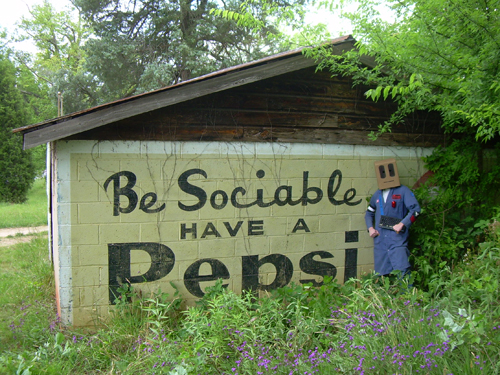 Some of Spartanburg's signs are decidedly quaint. Take, for instance, this "Be Sociable Have a Pepsi" sign. Slobot wonders, "Is it misanthropic to drink RC Cola?"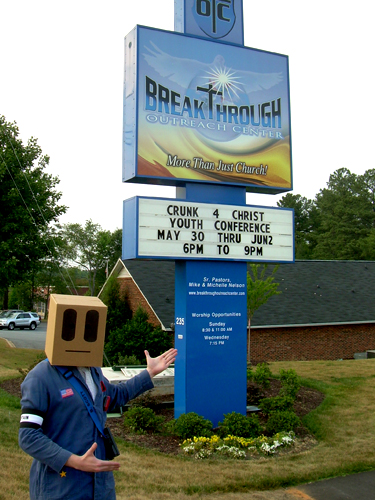 "Be Sociable have a Pepsi" is a call for action, and so is Slobot's favorite Spartanburg sign, one that urges Slobot to get "Crunk 4 Christ."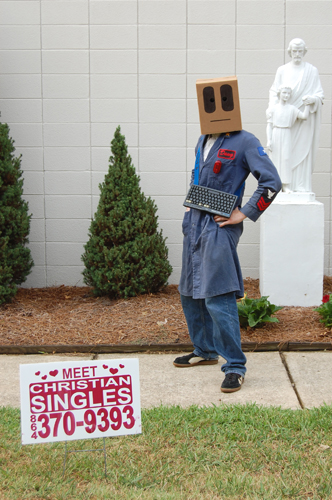 If Slobot were to get "Crunk 4 Christ" he was going to need a partner. It was then that Slobot had the good fortune to find one of Spartanburg's "Meet Christian Singles" signs.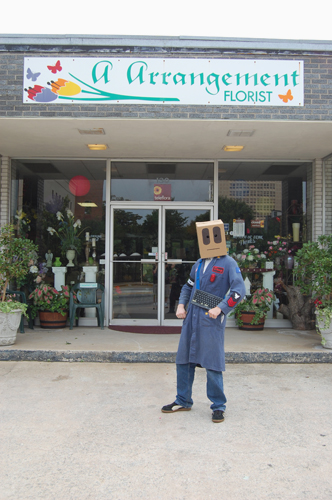 Some of Spartanburg's signs challenge conventions of grammar, like the sign for "A Arrangement Florist."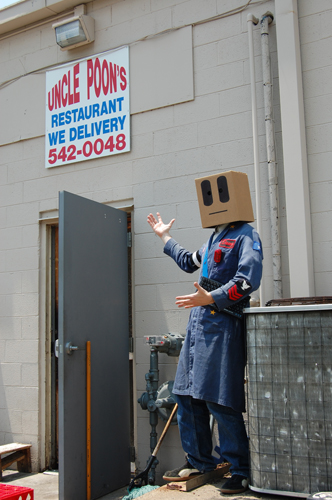 Other signs aim for grammatical greatness but somehow fall short, like Uncle Poon's "We Delivery" sign.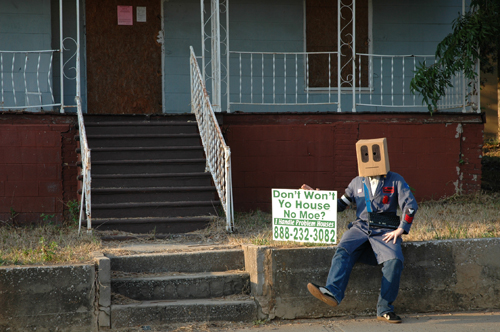 "A Arrangement Florist" may bend grammatical rules, "We Delivery" may stumble upon them but the "Don't Won't Yo House No Moe?" sign simply terminates them.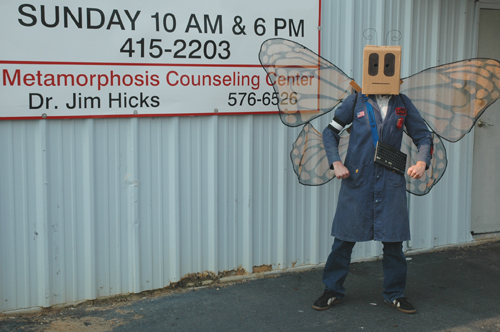 Other signs are seemingly innocuous yet conjure cool visions, as does the sign for "Metamorphosis Counseling Center."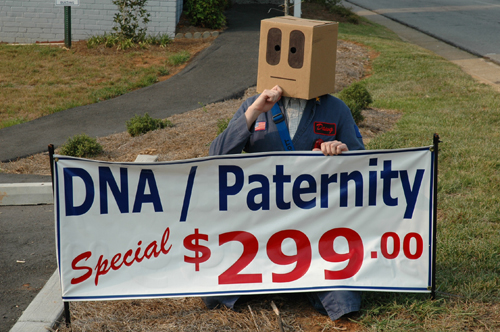 In a class unto itself is this "DNA/Paternity Special" sign, for it is the sort of sign that leads Slobot on a path of deep introspection and reflection, making Slobot ponder the deep mysteries of his own beginnings.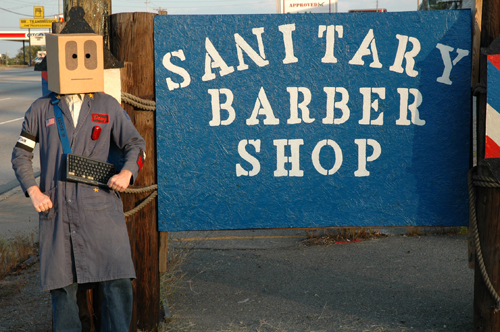 Another of Slobot's favorite Spartanburg signs is the one belonging to the Sanitary Barber Shop on Asheville Highway. Slobot often wonders why such a stellar barber would use such a lackluster adjective as "sanitary."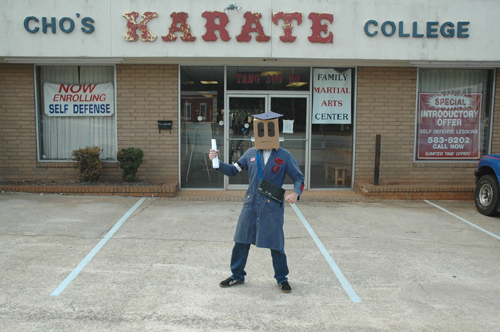 "Sanitary Barber Shop" may sell itself short, but "Cho's Karate College" sells itself big. Slobot wonders if he could earn a degree from Cho's Karate College?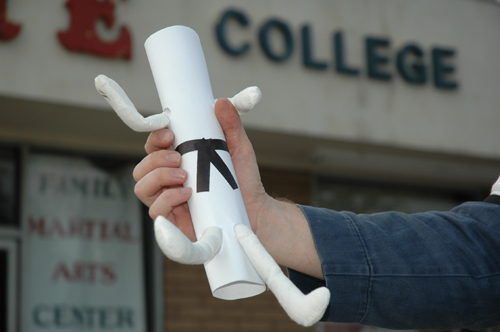 And would his diploma be able to kick butt, too?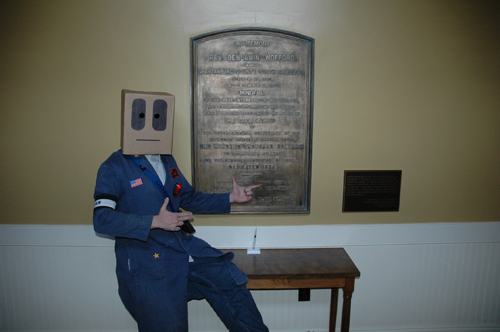 Finally, there are the historic signs of Spartanburg.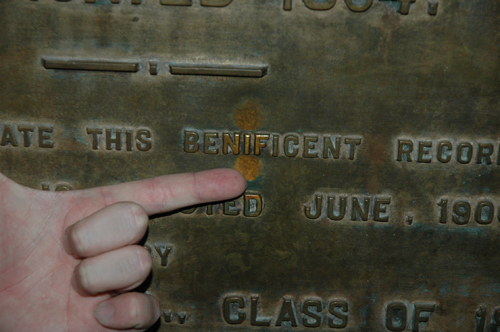 Generations of Wofford students, for example, have marveled at the misspelling of "beneficent" on this plaque in the Old Main building of Wofford College.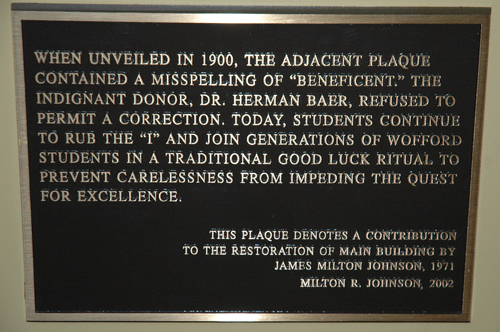 The story behind the sign is really quite remarkable. It turns out that Dr. Herman Baer, who had donated money for the sign, refused to allow or pay for a correction of this misprint and so, for the last 107 years the sign has stood and students to this day rub the "i" of "benificent" to ward off careless spelling.
Slobot would like to thank the small business owners of Spartanburg and YOU!
- PS -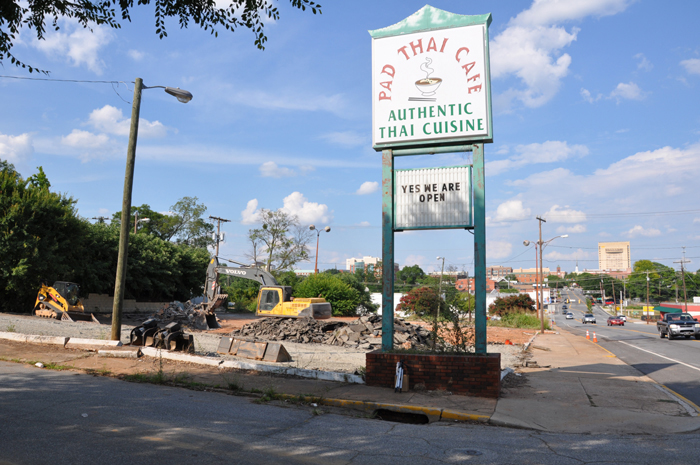 In mid-July of 2014 the Pad Thai Cafe was torn down,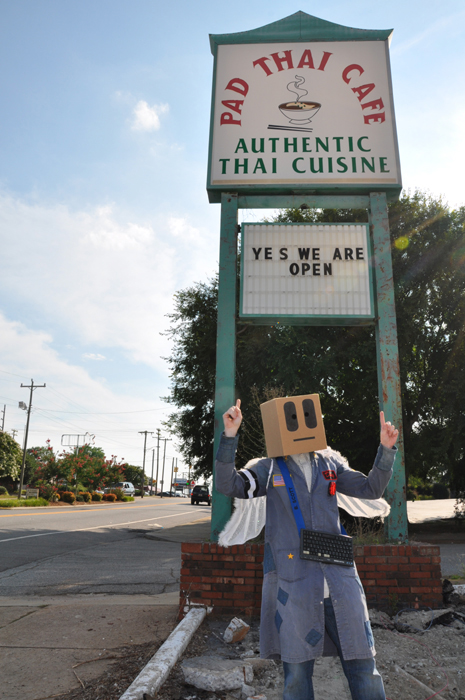 yet their sign continues to taunt and mock the hungry with "YES WE ARE OPEN!"