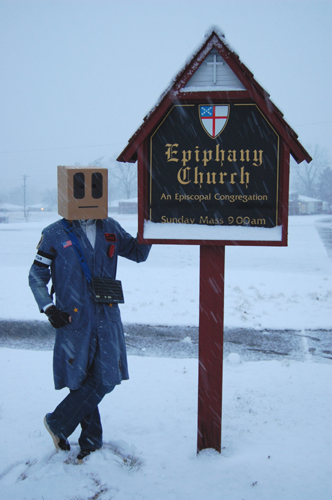 Slobot was playing in the snow out on West Park Avenue when he discovered...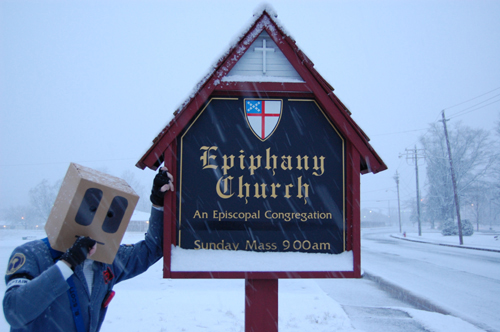 an Episcopal Congregation!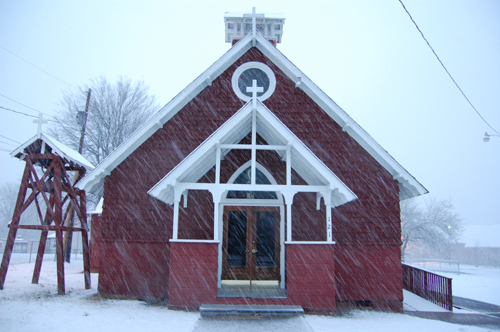 It was the old Epiphany Mission!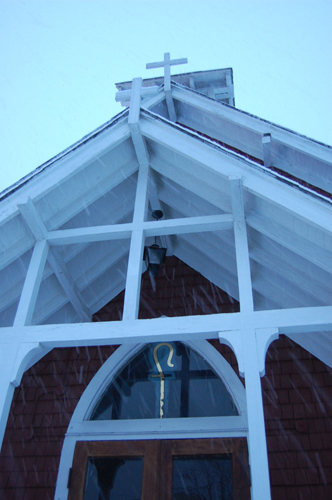 The Epiphany Mission Church would be conceived as a house of worship for "colored" Episcopalians.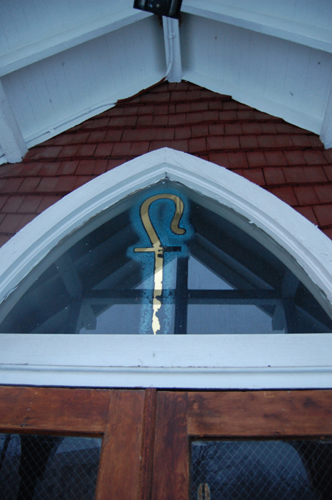 It would be sponsored by the white congregation of the Church of the Advent.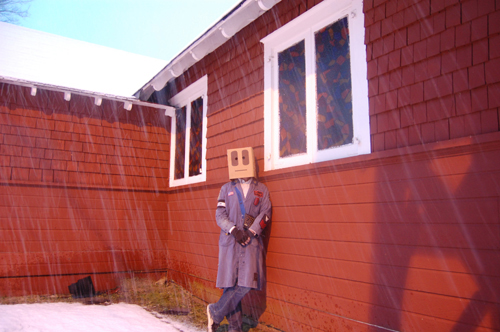 The congregation of the Episcopal Epiphany Mission Church would be formally organized in 1893.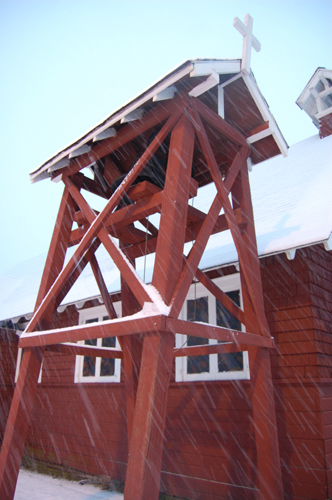 The Epiphany Church that stands today would be built in 1914.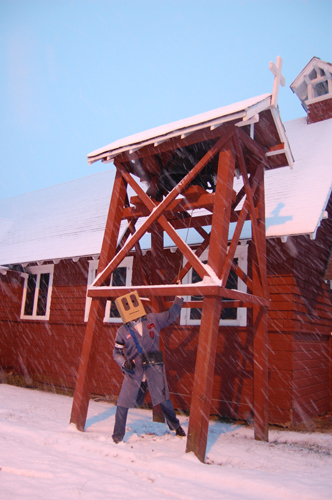 Slobot loved the Mission's old bell!
Slobot's friend, Zuzu Bailey, once told him that, "every time a bell rings an angel gets his wings."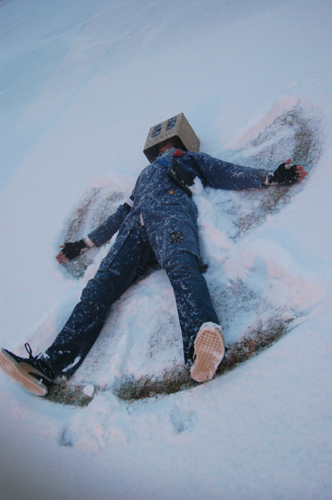 Zuzu inspired Slobot...
to play the angel... and wish for warmer weather.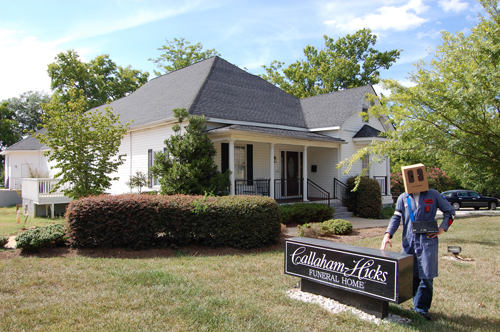 Slobot's wish was gratefully granted and so, on a sunny day, Slobot strolled toward Barnet Park. Near the park, at 216 North Dean Street, Slobot discovered the Callaham-Hicks Funeral Home. The funeral home was once a hospital, the city's first (licensed) black hospital. It would be created in 1913 by Nina E. and Worth Littlejohn. Known as the John-Nina Hospital, it operated for some 19 years before merging with Spartanburg General. In 1933, the building would be sold to the Callaham family, who have operated a funeral home there ever since. In the early morning hours of August 09, 2007 the former John-Nina Hospital would be significantly damaged in an act of arson. Richard Lee Bryson and Albert Edward Harter would be arrested on charges of second-degree arson and burglary. Investigators believe that the men started the fire after they broke into the building and failed to find anything to filch.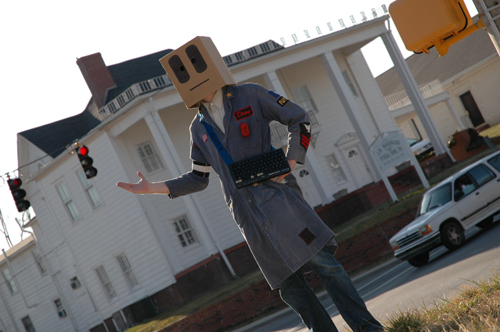 The J. W. Woodward Funeral Home on Howard Street used to be home of Providence (AKA "Provident") Hospital for Blacks. Carrie Bomar Perry would open Providence Hospital in October of 1920. John W. Woodward would purchase the building after the Providence merged with Spartanburg General Hospital. Today the building is home to the offices of the J. W. Woodward Funeral Home.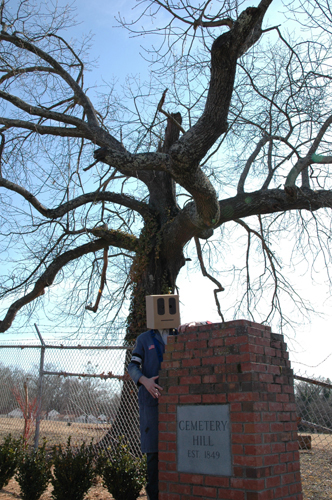 Slobot was wandering the city's south side when he discovered Cemetery Hill. Cemetery Hill is home to the Old City Cemetery.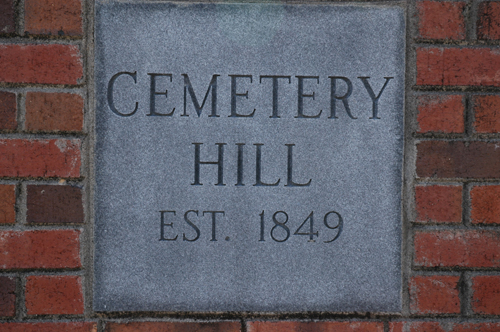 The Old City Cemetery began life ~1900 as the Spartanburg Colored Cemetery. Graves in the cemetery include those that were moved from a location some 1 mile West. Those graves came from the city's first black cemetery, which had been established in 1849.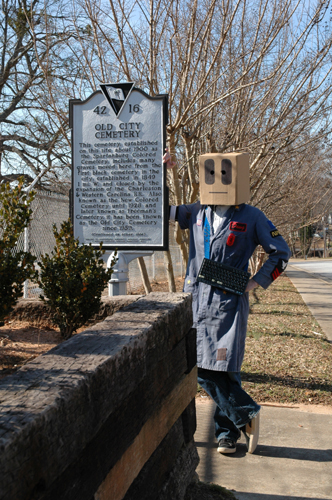 The cemetery would be be known as the New Colored Cemetery until 1928, when it was named Freeman's Cemetery. Since 1959 the cemetery has been known as the Old Cemetery or Old City Cemetery.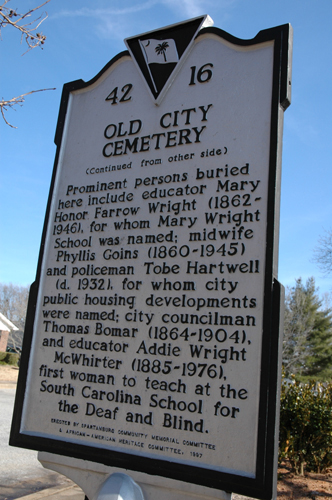 Many prominent citizens rest in peace here. Citizens like policeman Tobe Hartwell (d. 1932), midwife Phyllis Goins (d. 1945)...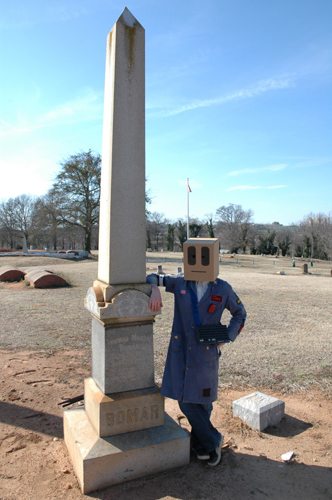 former alderman Thomas Bomar (1861-1904),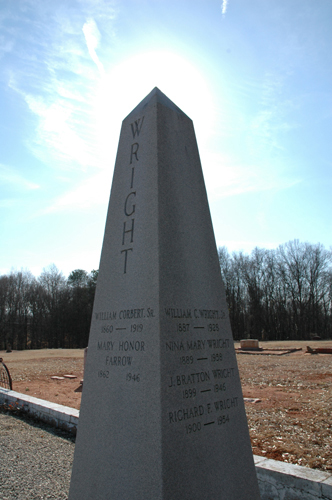 and educator Mary Honor Farrow Wright (1862-1946).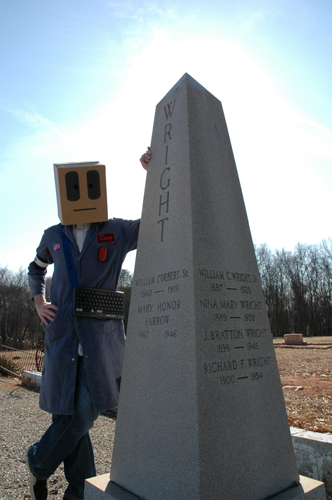 Mary Honor Farrow would be born to Lot and Adeline Farrow in 1862. Her career in education would begin early, when the 9-year-old Mary began teaching Sunday School at Silver Hill Methodist Church. In 1884 Mary Farrow would marry William Corbert Wright. The following year Wright's father, Lot Farrow, would pass away. William and Mary Wright would begin their own family, eventually having 10 children.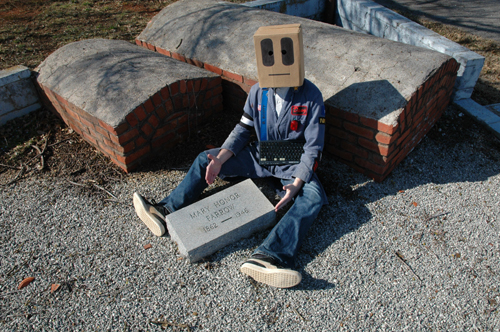 Wright would go on to work in the Spartanburg public school system for some 65 years. In that time she would see her efforts to expand educational opportunities within the black community come to fruition with the construction of the Carrier Street School in 1909. When Wright retired in 1943, it would be at the ripe old age of 81 and after 64 years of public service! Indeed, when Wright would retire, she would be recognized as the school's oldest public school teacher. Wright would pass away on August 25, 1946 at the age of 84.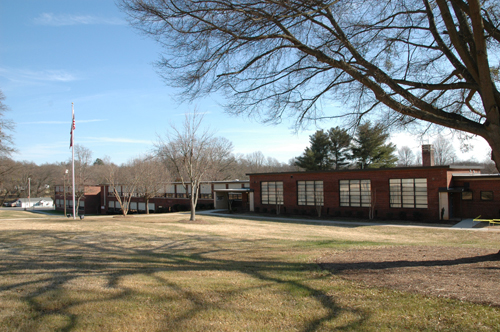 Five years after her death, Wright's memory would be honored with the construction of the Mary H. Wright Elementary School on Caulder Avenue. Being built prior to Brown v. Board, the school originally served black students.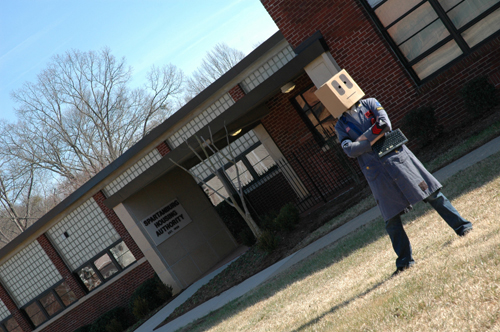 Today the former Mary H. Wright Elementary School has been converted into office space for the Spartanburg Housing Authority. A new Mary H. Wright Elementary School stands on South Church Street.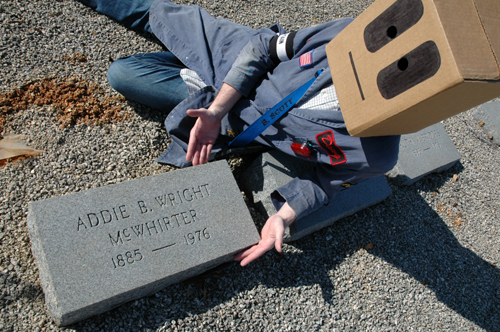 On January 17, 1885 Mary Honor Farrow Wright would give birth to a child at her Magnolia Street home. That child, Addie Bessear Wright, would go on to become the first black teacher at the South Carolina School for the Deaf and Blind. Addie would marry Parris A. McWhirter and serve the public for 62 years. Addie McWhirter celebrated her 85th birthday at the Epiphany Mission, where she had been volunteering since 1909. She would die in 1976 at the age of 91.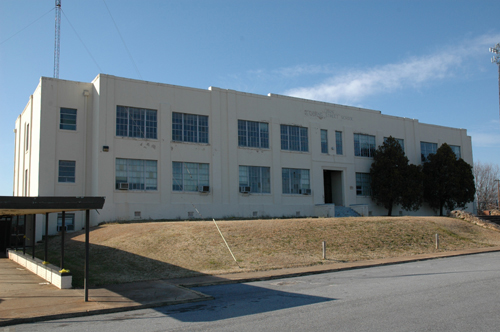 Near Wofford College stands the Cumming Street School. Cumming Street would serve black students of Spartanburg from 1926 until 1969.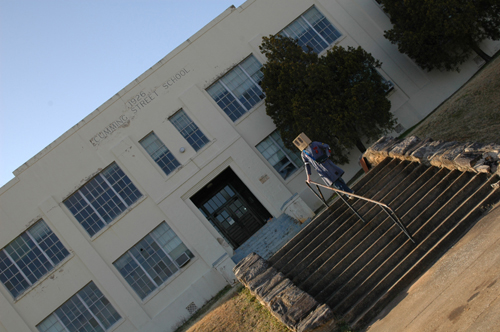 James Frank Collins would be the architect behind Cumming Street School. Built in 1926, Cumming Street's plain, concrete facade stands in sharp contrast with other J. Frank Collins schools like the former Southside Elementary School on Spring Street. Southside, now the Spartanburg Charter School, originally opened in 1939 to serve white students of Spartanburg. Southside would be ornate and built of brick. Some have described such structural disparities as architectural racism, others describe it as a product of the times. Regardless, such disparities inevitably led a nation to recognize that separate cannot be equal. Recently - December 27, 2007 - Wofford College bought the old Cumming Street School for some $1 million!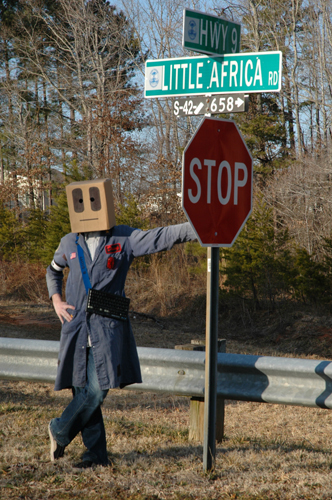 Slobot wandered beyond Lake Bowen and New Prospect to a little community known as Little Africa.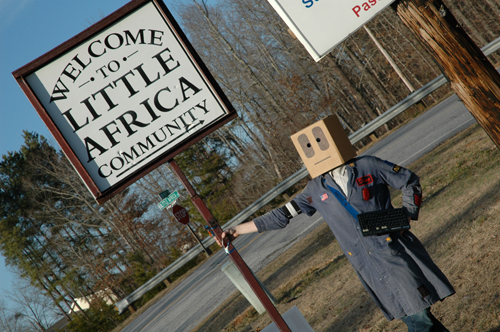 Little Africa is said to be so named as it began life as a community of emancipated slaves. Today she thrives.
Happy Black History Month!
Slobot would like to thank the community of Little Africa, the Spartanburg Housing Authority, Spartanburg County School District 7, the Epiphany Church, the J. W. Woodward Funeral Home, the Callaham-Hicks Funeral Home and YOU!